Pentagon officer gets restraining order against anti-drone activists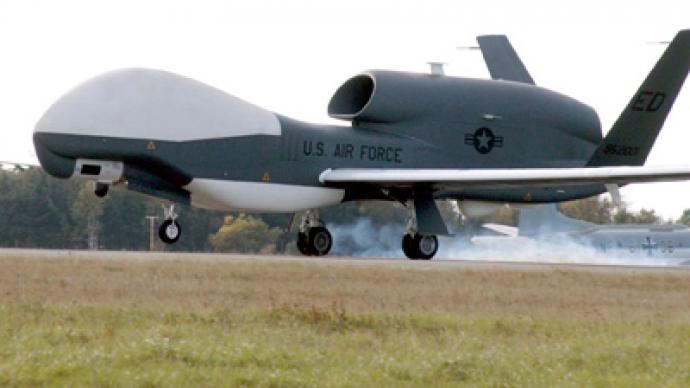 A US military commander has received a court order to keep a group of anti-drone activists at a distance, thereby suppressing criticism by preventing peace advocates from protesting in front of the military base where he works.
The Hancock Field Air National Guard Base, located near Syracuse, NY, has an area where nonviolent protesters can demonstrate on a weekly basis. After anti-drone protesters repeatedly came to the base and vocalized their opinions on what they call President Obama's "program of murder," a lieutenant colonel at the base received a court order banning 17 peace activists from coming anywhere near him – even though some of them don't know who he is.
The order came after the group protested in front of the entrance to the base in late October. The 17 individuals who remained in place when police told them to move were charged with trespassing and disorderly conduct – and were banned from nearing Lieutenant Colonel Earl A. Evans.
Under the order, the activists will be arrested and could face up to seven years in prison if they demonstrate anywhere near Evans – even if they are in the permitted demonstration area near the base, according to David Swan, anti-war activist and owner of the website warisacrime.org. They are also prohibited from going anywhere near the man's home or school, the addresses of which are unknown to them. Not knowing what to avoid, the activists could very well accidentally stumble upon the places from which they are now banned.
The temporary protection order for the colonel also forbids protesters from assaulting, stalking, harassing, harming, touching, intimidating, and threatening Evans and his family. Swan believes this order is simply an attempt to silence the activists, since they have allegedly never even had an encounter with Evans.
"This looks to me like an outrageous court action to block us from using First Amendment rights to comply with international law," said Elliott Adams, one of the protesters. "We've been arrested a number of times blocking one of the entrances to Hancock Air National Guard Base while trying to serve an indictment to the base for violation of international law with the drones operated from the base."
Prior to the court order, officials at the Hancock Field have used other methods to keep concerned citizens out of sight and away from their entrance.
"Some friends of mine have gotten arrested more times than I can count now for the offense of protesting drone use outside Hancock Air Field," Swan wrote for the online publication Dissident Voice. "Often they've been aware of the risk of being arrested. But they've gone into court and argued that the larger crime is being committed inside the base by drone pilots."
But the arrests are not restricted to Hancock Field. Earlier this month, nine California residents were arrested and cited for trespassing at Beale Air Force Base for protesting the use of armed drones by the US military. The nine peace activists had been protesting in front of the main gate, thereby making it difficult for cars to pass. They are now awaiting court dates and could face up to six months in prison.
You can share this story on social media: