​Ohio fracking drilling shut down after quakes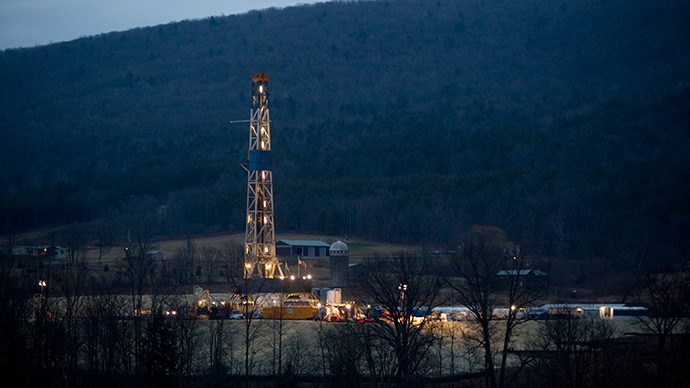 Ohio authorities have halted a fracking operation in following two quakes. Both the authorities and the operator say there is no evidence linking fracking with the tremors, but in the past an Ohio well was closed for causing quakes.
The Ohio tremors were felt on Monday in Poland Township and the village of Lowellville near the Pennsylvania. The first 3.0 magnitude quake stroke at about 2:30am and was followed by a second 2.6 magnitude quake at 11:45am, the US Geological Survey reported. Two smaller aftershocks were reported later in the day.
Following the quakes Ohio Department of Natural Resources (ODNR) ordered suspension of drilling operation at Carbon Limestone Landfill in Lowellville, local media reported. Texas-based Hilcorp Energy has about a dozen wells in the area and was performing horizontal drilling as part of fracking production of hydrocarbons.
"Out of an abundance of caution we notified the only oil and gas operator in the area, and ordered them to halt all operations until further assessment can take place," Mark Bruce, ODNR public information officer, said in a statement. "ODNR is using all available resources to determine the exact circumstances surrounding this event and will take the appropriate actions necessary to protect public health and safety."
"All available information indicates the events are not connected to Class II injection activities," he added in a reference to the horizontal drilling.
Hilcorp Energy, which is the only oil and gas operator in the area and has been drilling wells there for two years, also cautioned against linking its activities with the seismic events.
"It is far too early in the process to know exactly what happened and we're not aware of any evidence to connect our operations to these events," it said in a statement.
Ohio is cautious about possible triggering of earthquakes by fracking operations since a series of earthquakes in 2011. The authorities initially denied any connection between them and fracking, but eventually it was proved otherwise. In January 2012, disposal of fracking waste in the 177 injection wells near Youngstown, which caused the quakes, was halted and similar operations were restricted.
Fracking is the process of pumping mixture of chemicals, sand and water into a shale formation to release oil and gas trapped in it. The resulting waste products, which may be contaminated with heavy metals or even naturally radioactive materials, are then disposed in so-called waste injection wells, which go deep underground.
After the Youngstown quakes, Ohio banned drilling injection wells to a layer of basement rock or to a layer of sandstone just above it, as this may trigger seismic activity.
The suspended Hilcorp operation did not involve disposal of waste in injection wells, however, and horizontal drilling, which they had been conducting, was not previously linked with earthquakes.
This does not stop environmental activists from being concerned about a possible link.
"When you put that much liquid under extreme pressure down into a shale formation, it leaks out of the shale formation and into an area where there is a fault, resulting in an earthquake," Wilma Subra, an environmental consultant and veteran activist, told Al Jazeera America.
"Before companies can be permitted to conduct fracking operations, states should require companies to assess how close they are to a fault line before granting them a permit," said William Subra, the Ohio organizer for environmental group Food and Water Watch. "Nothing in any of the state regulations require that now, but that may change with the Ohio earthquakes."
The US is rapidly developing fracking operations, which allow extracting oil and gas not available through conventional methods. Just over 2013 the US production of crude jumped 15.3 percent, according to an International Energy Agency estimate, an increase unseen since 1951. Proponents say the technology will soon make the US an energy superpower, which would no longer need to import energy from foreign suppliers like Saudi Arabia.
Environmentalists are cautious about potential ramifications of fracking, including earthquakes and contamination of groundwater with dangerous chemicals.
You can share this story on social media: