CA environmental group takes on govt agreement with oil company to dump chemicals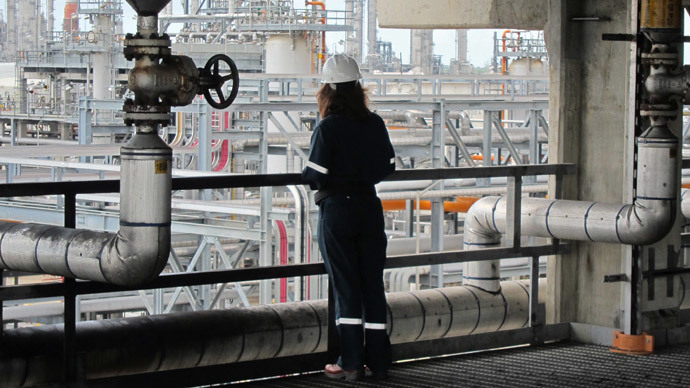 An environmental group has filed a legal petition calling on the US Environmental Protection Agency to prohibit chemicals from being dumped into the ocean after reporters revealed federal regulators had quietly given energy companies permission to do so.
The nonprofit progressive news site TruthOut revealed in October that in at least four instances federal agencies permitted the oil company DCOR to begin fracking in the Santa Barbara Channel in California without completing any kind of environmental review.
Fracking, known officially as hydraulic fracturing, has attracted the public's attention throughout the world because of the fear that drilling into rock deep beneath the Earth's surface could unintentionally send dangerous chemicals into the environment.
There are at least 12 rigs off the coast of California that drill into undersea rock formations, injecting highly pressurized fluid and extracting oil. After that fluid is drilled into the ground, it then comes back out as chemical wastewater, which investigators say is being allowed to be dumped back into the ocean without the public's knowledge.
The Center for Biological Diversity filed a legal petition Wednesday pleading with the EPA to stop allowing companies to dump what the group claims is more than nine billion gallons of waste.
"It's disgusting that oil companies dump wastewater into California's ocean," Miyoko Sakashita, CBD oceans director, said in a press release. "You can see the rigs from shore, but the contaminated waters are hidden from view. Our goal is to make sure toxic fracking chemicals don't poison wildlife or end up in the food chain."
Waste created by land fracking is dangerous because it is known to contain methanol, benzene, naphthalene, and other components that are used to break up the underground rock. Yet California's KCET, an independent public television station, reported the waste that has been dumped into Santa Barbara Channel is even more problematic because of the delicate ecosystem off the coast of Southern California.
"It came as a complete surprise to learn that oil companies are fracking in waters off the coast where I let my kids swim and play," Sakashita continued. "The toxic chemicals used for offshore fracking don't belong in the ocean, and the best way to protect our coast is to ban fracking altogether."
The initial TruthOut investigation determined that environmental regulators at the Bureau of Ocean Energy Management and the Bureau of Safety and Environmental Enforcement authorized "minor revisions to permits" owned by DCOR. That permit change "categorically excluded" DCOR's fracking activity from any environmental review beginning in 2014.
Oil companies are still viewed with suspicion by some in California because of the notorious 1969 Santa Barbara oil spill, which was the largest oil spill in US waters until the Exxon Valdez spill in 1989. The accident, which covered the coastline from Goleta to Ventura and killed thousands of animals, is now the third largest spill behind the Deepwater Horizon disaster and Exxon Valdez.
Unlike many situations in which an environmental group pits itself against a major corporation, the Center for Biological Diversity could have a feasible chance at stopping the objectionable activity.
The group recently won a similar lawsuit after a federal court ruled that the government violated existing environmental law when it leased federal land for fracking without reviewing the environmental implications. That decision put a halt on fracking across thousands of acres of California land.
"Oil companies are fracking California's beautiful coastal waters with dangerous chemicals, and federal officials seem barely aware of the dangers," Sakashita told TruthOut last year. "We need an immediate halt to offshore fracking before chemical pollution or an oil spill poisons the whales and other wildlife that depend on California's rich coastal waters."
You can share this story on social media: