Occupy shuts down US West Coast ports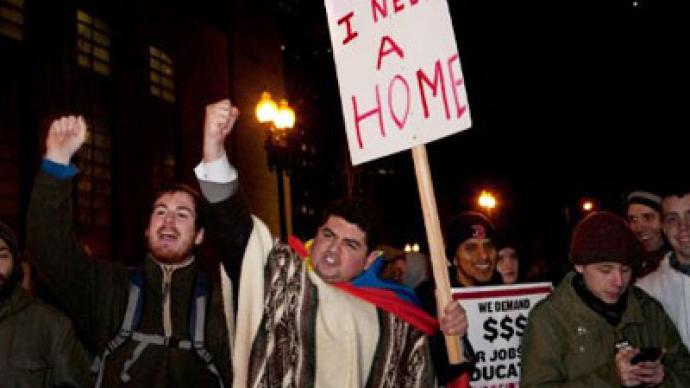 Up and down West Coast, protesters have begun a massive blockade on the Pacific Ocean ports as part of a day of action under the umbrella of the Occupy Wall Street movement.
In cities such as Oakland, Long Beach, Los Angeles, Seattle and Anchorage, demonstrators awoke early Monday morning to storm shipping facilities in America's ports, in what organizers say is an attempt to "disrupt the economic machine that benefits the wealthiest individuals and corporations."Before noon on Monday, ports were successfully shut down by protesters in the cities of Portland, Longview and Oakland, with demonstrators waging similar strikes in other cities on the Pacific Coast. In Canada, the port of Vancouver, British Columbia, was also closed and operations at Long Beach, California were slowed due to protester action. In Oakland, California, around 150 workers were sent home after it was decided that continuing the work day would be too troublesome. Two shipping terminals were taken down in Portland, Oregon, as well. Approaching its fourth month of ongoing demonstrations, protesters aligned with Occupy Wall Street launched a similar campaign earlier in the movement, effectively closing shipping ports in Oakland, California. In that protest in November, the fifth-busiest port in all of America was successfully shut down for the day. "We will not stand for corporate profits at the expense of working people, we will not stand for attacks on workers, and we will not allow our schools to be closed, social services slashed, and families to be impoverished by your greed!" Kari Koch, organizer with Shut Down the Ports Working Group of Occupy Portland, says in a statement to the press.In the days since the movement began, demonstrations on the Pacific Coast have grown, with Oakland, California becoming an integral locale for the protests, serving as a West Coast hub of sorts for the demonstrations. The movement itself was launched back in September from New York City's Zuccotti Park. "We are occupying the ports as part of a day of action, boycott and march for full legalization and good jobs for all to draw attention to and protest the criminal system of concentrated wealth that depends on local and global exploitation of working people, and the denial of workers' rights to organize for decent pay, working conditions and benefits, in disregard for the environment and the health and safety of surrounding communities," organizers for the slew of events write on their website. The protests of the ports launched as early as 5 a.m. California time Monday morning, and continued throughout the day. Even though police threatened protesters with mass arrests, and in the case of Long Beach, California, attacks with police dogs, demonstrations continued with no major incidents reported.
You can share this story on social media: