Occupy Wall Street: The video game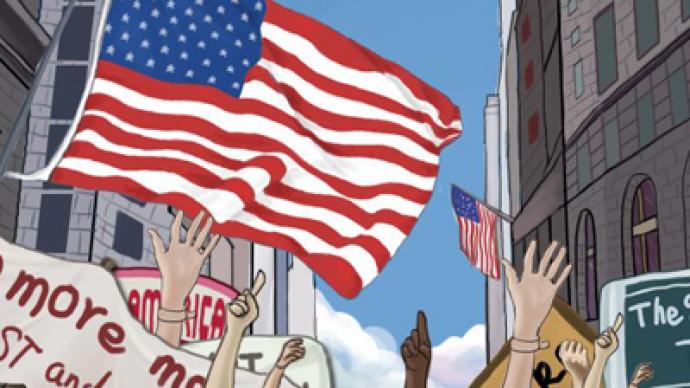 It's a team-building exercise that's both built in a box on wheels and battery-powered; it's one part Pong, two parts cooperation and arguably addictive enough to occupy hours of your time.
Programmers in Oakland, California have unveiled a video games inspired by the Occupy Wall Street movement.Three developers based out of the Bay Area on America's West Coast have slaved over codes and computer parts to put together a video game in the style of classic 1980's arcade culture. Rather than programming a Pac-Man to gobble ghouls or creating a coin-hungry plumber to pursue a princess, these designers have instead developed a game that they say was motivated by Occupy Wall Street."The game [marries] the idea of the social movement where everyone who's playing contributes to the overall success of everyone," co-creator Anna Anthropy tells Wired. Just like how the Occupy movement created communities from coast-to-coast, Anthropy and her team hopes that one game at a time the trio of programmers will help produce an added sense of community within OWS. The group first showcased the game during a march in Oakland earlier this year and now the machine will make its official unveiling at a conference coming soon to California.Anthropy explains to Wired, "Since games are mostly designed for the home now, instead of arcades, they've lost that sort of uniqueness, that this is a game designed to be played in this setting and in this context." "I like the idea of a game that can travel, which is why it's so much more interesting to have a game that's designed for social events, rather than a game that's designed to be downloaded on every computer, because it has more of a journey," adds its co-creator.The OAK-U-TRON 201X was first displayed in, of all places, Oakland, a city that has become an unofficial West Coast headquarters of sorts for OWS. After the Occupy movement materialized out of New York City, the demonstrations that developed in Lower Manhattan spawned offshoots across the country and eventually the world, in the meantime triggering a series of massive protests in this waterfront town outside of San Francisco. Although Oakland has seen its share of marches, protests, political rallies and even violence, Alex Kerfoot, Anna Anthropy and Mars Jokela — three programmers from the Bay region — say they were inspired to put together a video game that memorializes the movement while adding to the idea of teaming up like-minded individuals to make a difference.The gameplay appears quite simple, but without two players cooperating together, a goal is impossible to accomplish. Maneuvering two sets of controls, gamers move characters through a series of switches one at a time to ascend a tower all the way to the top. When the clock ticks down, players then have to parachute down and, as Wired explains, "occupies" a switch and, thus, saves their score."Someone who's maybe not super good at video games might only get to an early switch, but they'll still stay behind and hold that switch and help all future players to still be contributing something that's significant." Anthropy adds to Wired.The OAK-U-TRON 201X machine itself is a handmade arcade box that the programs put on wheels and pushed through a protest earlier this year. Inside the console was their other brainchild, the actual game called Keep Me Occupied, which they have made available for free on the Internet. Wanting to add something to the sprawling Occupy marches in Oakland, the game-makers debuted their craft at a march and discovered that while the game did match up strangers to work towards a common goal, it also became a hit among protesters through the city."The further we went, the more obviously difficult time Alex and I were having pushing it ourselves," Jokela adds to Wired. "People just flocked to it. We wound up with a crew with like eight people who were all helping to bring it to its final destination. Nobody knew where we were going, so we had people running out ahead, scouting ahead, figuring out where the group is…"Even with a heavy police presence and tear gas galore, the developers managed to walk out of that Occupy march with their OAK-U-TRON intact, and inside of it a working copy of Keep Me Occupied. The creators will bring their finished product before other programmers this week at the Game Developers Conference in San Francisco on Friday.
You can share this story on social media: