Occupy Oakland prepares for city-wide strike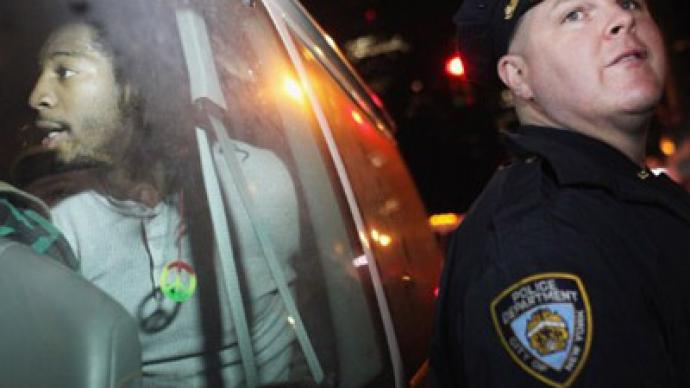 Following an intense week for Oakland, California's Occupy movement that saw dozens of arrests, brutal police raids and one US vet suffering a skull fracture thanks to the local police, protesters are organizing a general strike for November 2.
Demonstrators with Occupy Oakland, the Bay Area's offshoot of the growing Occupy Wall Street movement, are calling for protesters to refrain from going to both work and school next week on November 2 as far as a city-wide strike that was voted upon by the local group's General Assembly by an overwhelming majority Wednesday night. During a vote taken yesterday, October 26, 96.9 percent of voters at the Occupy Oakland General Assembly agreed to launch the strike.On the website for the broader Occupy California movement, a notice of the event tells demonstrators "Don't go to work. Walk out of school. Say no to debt and austerity."The strike, adds the announcement, is "for our dreams, for our community [and] for our collective future."Wednesday night's decision followed a march throughout Oakland that was attended by upwards of 3,000 protesters. Six weeks into the ongoing Occupy protests occurring across the US and internationally, Oakland, California has taken center-stage in recent days following repeated raids by state and local authorities that deployed aggressive crack-downs on the city's demonstrators on Tuesday and Wednesday. More than 70 participants in the Occupy Oakland movement were arrested early Tuesday as hundreds of cops moved into their encampment at the city's Frank Ogawa Plaza and evicted protesters. Hours later, participants reconvened and launched a march on the city, only to be met once again by hostile officers.Late Tuesday night, Scott Olsen, 24, was hit in the head by a blunt object believed to be a non-lethal projectile launched by the Oakland PD. The following afternoon, Olsen was still in a local hospital with a skull fracture and brain swelling, listed in critical condition as he entered the operating room. Reports today, while conflicting, suggest that Olsen's status is currently either still critical or fair.Olsen, on attendance at Occupy Oakland as a member of Veterans for Peace, served in the US Marines for two tours of Iraq. In solidarity with this week's events, demonstrations to show support for both Olsen and the Occupy Oakland movement have occurred in other Occupy Wall Street offshoots, including Washington DC, where a flag honoring the Bay Area movement was raised on Pennsylvania Avenue's Freedom Plaza, the host of the October 2011 / Stop the Machine demonstration.
You can share this story on social media: