Occupy camps under attack across America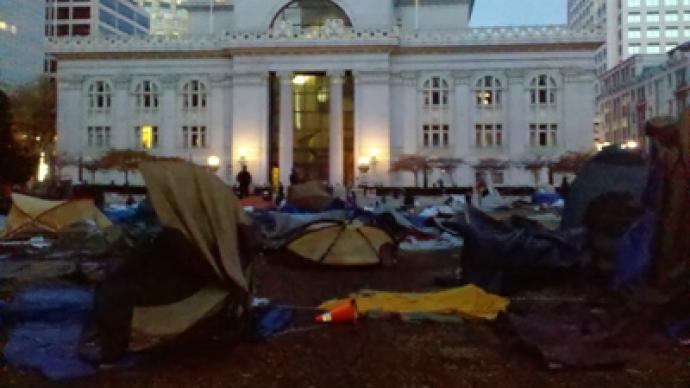 Nearly 60 days after the Occupy Wall Street movement began, cops across the country cracked down on encampments in Oakland, Albany and cities in-between over the weekend, in a series of events perhaps the most detrimental to the movement so far.
After weeks of standoffs between protesters and police, law enforcement in Oakland, California moved in on the Bay Area city's Occupy demonstration early this morning and successfully dismantled the encampment. Clad in riot gear and obscuring their badges to avoid identification, hundreds of cops in arrays of three-deep encircled the main camp at Frank Ogawa Plaza this morning and warned protesters to pack up and leave, lest they wished to risk arrest. By 6:30 a.m. local time, the Oakland Tribune reported that around 20 demonstrators had been arrested, more than a dozen of whom had been detained while participating in a prayer group. According to reports from the scene, the group was leading a sing-along of "We Shall Overcome" as riot cops came in and issued arrests.
"That's all folks," RT's Lucy Kafanov reported shortly after from the scene. After clearing the encampment of occupiers, police deemed the park a crime scene and evicted not just protesters but reporters as well, painting only a vague picture of what was left of what had become one of the most monumental hubs of the Occupy movement so far.Despite the early morning crackdown coming as a surprise, Monday's incident for the most part was the least violent of the ongoing confrontations between Occupy Oakland protesters and the local PD. In the weeks since their encampment began, several demonstrators were seriously injured by the police while peacefully protesting. Only this weekend, Iraq War veteran Scott Olsen was released from an Oakland hospital where he had been undergoing surgery for injuries incurred from a police projectile during a raid by the police weeks earlier. Olsen was originally admitted in critical condition with a fractured skull and was the first of two war vets to suffer injuries while protesting in Oakland.While this morning's raid in Oakland was perhaps the most peaceful the city has experienced so far, elsewhere reports from coast-to-coast suggest that police response to other Occupy protests were marred with overzealous attacks and brutality.In Chapel Hill, North Carolina on Sunday, more than two dozen officers clad in riot gear and holding assault rifles stormed into an abandoned Chrysler building that had been vacant for over a decade. Inside they found eight protesters who had been claiming "squatters' rights" over the property. Though they were peaceful, officers stormed the building and issued arrests with weapons drawn.At least one journalist in the small North Carolina city was forced to lie on the ground and be cuffed by police for reporting from the scene.Later that evening, 13 were arrested at the Occupy Albany encampment in New York for failing to vacate from Lafayette Park across from the state's Capitol building. Officials had charged them with trespassing after failing to comply with a city curfew. Those arrests came only a day after state police arrested another two dozen on similar charges."It's a tragedy that people in the state of New York cannot exercise their First Amendment rights in a public park," attorney Robert Magee tells Albany's NEWS10 of the crack-down.In Salt Lake City, Utah on Saturday, another 19 protesters were subjected to either arrests or citations from police for occupying the city's Pioneer Park. "There was a large police presence down here.It was a little intense," protester Michael Wilson told a local ABC News affiliate. "I think that was part of their strategy to shock and awe. But we weren't intimidated."Police had brought in bulldozers to level the encampment and destroy the makeshift homes and belongings that protesters were forced to abandon following Saturday's raid. A day later, however, protesters had regrouped and were planning to continue their occupation.Likewise, protesters in Oakland are already planning their next move following this morning's raid. Both the Oakland Police Department and the Occupiers themselves are planning separate conferences today to discuss the weekend's events and the course of action from here on out.In Burlington, Vermont, where an unexpected suicide on the Occupy encampment shut down the protest on Friday, demonstrators complied with police action but said that they were not done making their point."This movement is still young," Jaime Jackson, 20, told the Burlington Free Press, "and we're not going away."In other cities across the country, however, executive orders from mayors and police are causing the crack-downs to increase in numbers on an almost hourly basis.In Portland, Oregon, Mayor Sam Adams ordered the Occupy Portland camp to be shut down Saturday at midnight, citing dangerous health conditions as a reason to vacate a city park. As protesters resisted, however, more than 50 were arrested as police raided the camp, swinging nightsticks and attacking demonstrators early Sunday morning. The Associated Press reports that the crowd in Portland had accumulated to the thousands as police tried to disperse the protests in the early morning hours. At one point the cops retreated, only to return later and swarm in — violently."We were talking about what we were going to do and then they just started hitting people. Seems like a waste of resources to me," protester Mike Swain, 27, says to the AP.At least one protester was hospitalized in Portland during the raid. Mayor Adams says that it is his job to keep the park clean and he will do it at all costs."This is not a game," said the mayor.
In San Francisco, California, officials cited health concerns as well as a reason to force occupiers to vacate an encampment on Market Street and another in front of the Federal Reserve building on Saturday."Never," Debra Lujan, 34, tells the San Francisco Examiner, adding that the demonstrators will not abandon their Market Street protest. "We occupy, that's what we do."Additionally, at least 20 were arrested in Denver, Colorado over the weekend at the city's own Occupy camp, several charges being waged for a city ordinance that prohibits people from placing "any encumbrance on the public right of way," in lay terms equating that any street, alley, sidewalk, parkway or other public space must be kept free of any private property. Some protesters say that they were in the process of vacating the park, loading up trucks and vans with tents and other belongings when a police raid forced them to abandon the clean-up on Sunday and leave their items behind.Following the raid by the Denver Police Department, the local Occupy chapter issued a statement calling the force the most violent one in the United States."Officers assaulted demonstrators who were just standing on the sidelines. An officer waited until a protester turned around and hit him in the back three times. They assaulted people verbally, including threats to 'break the teeth' of protesters. One officer told another officer to 'SHOOT EM!! SHOOT EM NOW!'" reads a statement from Occupy Denver. According to the press release, one protester was struck by an officer on a motorcycle and transported to a hospital. Others were kettled and shot with pepper-balls."All of this dangerous mayhem, completely instigated by police under the orders of our mayor, was directed at peaceful protesters," continues the statement."These are certainly the kind of actions one might expect from the Egyptian Police in the last days of the Arab Spring, but not in Denver."Even after being subjected to police brutality, however, protesters in encampments from coast-to-coast vow that they will not be stopped."I don't see how they're going to disperse us," Ohad Meyer, 30, of Oakland, tells USA Today after this morning's raid in the Bay Area. "There are thousands of people who are going to come back."The Occupy Wall Street movement began in New York City on September 17 and has spread internationally in the two months since, along the way causing encampments to be established in nearly every major city in America and spawning thousands of arrests for peacefully protesting. A handful of those that began the movement in Manhattan's Zuccotti Park are currently en route on foot to Washington DC, where they will protest the coming meeting of the congressional supercommittee.
You can share this story on social media: