Occupy activists fight with Ben & Jerry's founder over The Illuminator
Published time: 1 Oct, 2012 21:37
Edited time: 2 Oct, 2012 01:37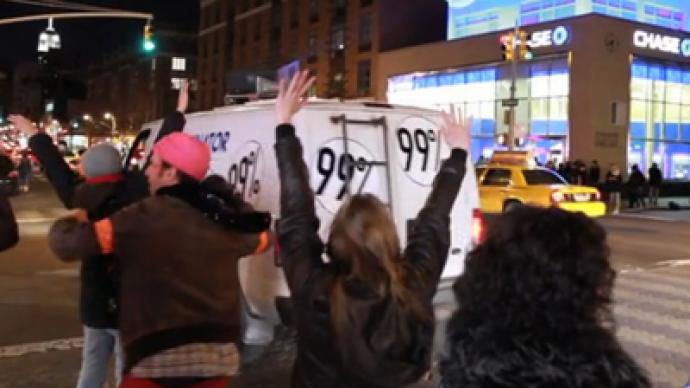 Occupy Wall Street demonstrators are at odds with one of the co-founders of the Ben & Jerry's ice cream company after both parties failed to find common ground with how to use a piece of machinery that has become an icon of the protest movement.
Ben Cohen of Ben and Jerry's agreed to help out the Occupy cause back in January by vowing to contribute as much as $65,000 to be used towards developing and operating a vehicle that would light up the skyline of Lower Manhattan with messages synonymous with the movement. With the assistance of his generous contribution, a Ford Econoline van was modified into a mobile message machine powerful enough to project "We are the 99 percent" and other slogans across the city.
That was the plan, at least. Sadly, it wasn't exactly the way the cookie dough crumbled.
Although Cohen and company managed to "The Illuminator" project off the ground, a rift has since driven the ice cream king apart from the occupiers, a group he suggests have co-opted the project he has financially backed to use it to advertise other left-leaning ideals that aren't necessarily synonymous with OWS.
Not before long, Cohen became concerned over how The Illuminator wasn't just lighting up New York with Occupy slogans, but was being used to advertise an array of other causes, including issues involving Julian Assange's WikiLeaks whistleblower site and Russian punk band Pussy Riot. When he wasn't willing to have his van used for other lines of activism, Cohen objected and a custody battle over the vehicle ensued.
"He didn't want to have to bother with the messy part of being in a democracy," Mark Read, the activist who claims to have initially proposed The Illuminator idea, tells DNAInfo.com.
"He's a 1 percenter," Read, 46, adds to the website, "telling the 99 percent, 'I'm your boss.'"
As the disagreement between parties heated up, the Occupiers agreed to abandon ownership of the Illuminator effective October 1.
"After we put in all those hours and put ourselves at risk as activists, we had [Cohen], who had not been in the van, come in and critique us," Read says. "To a person, I think we all feel kind of betrayed and disappointed."
Now Cohen has once again assumed control over the cargo van, but that doesn't mean upcoming OWS demonstrations will be without a big, generator-powered, electrical advertising machine. Occupiers have opened up a Kickstarter crowd-funding campaign to collective funds for The Illuminator 2.0, a ramped-up re-do of the old Cohen van that they hope to use this season — without fearing repercussions from any future ice cream investors.
"We are the 99%, and we will be our own superhero," OWS says in a statement to DNAInfo