Americans fatter than ever, obesity officially called a 'disease'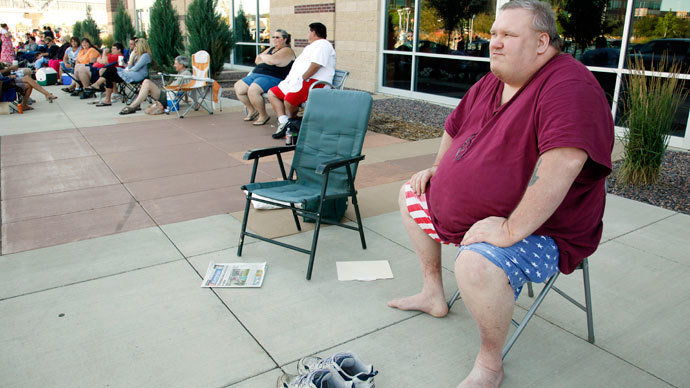 US obesity rates have reached a record high, and physicians have officially classified it as a "disease", which will likely change the way doctors and health insurance providers treat the 28.9 percent of American adults who are severely overweight.
Obesity in the US has reached a new high, continuing a 15-year streak in which the rate increased annually. The Centers for Disease Control announced that in 2012, 28.9 percent of adults were obese, which surpassed the 28.7 who carried excessive weight in 2011.
The agency also announced that the country's obese population is 50 percent greater than it was in 1997, when only 19.4 percent of Americans were at a dangerously unhealthy weight. The rise in obesity comes despite efforts by First Lady Michelle Obama to promote healthy eating, and New York Mayor Michael Bloomberg's size restriction on sugary drinks. The American Medical Association now has a new approach: the organization hopes Americans will shed pounds if obesity is perceived in a new way.  
The nation's largest physician's groupon Tuesday classified obesity as a medical "disease", despite the recommendations of a committee of experts who studied the issue for a year.
The new categorization suggests that obese Americans are suffering from an illness comparable to cancer, genetic disorders, neurological conditions, and infectious diseases, many of which require significant medical treatment. 
"Given the existing limitations of [Body Mass Index] to diagnose obesity in clinical practice, it is unclear that recognizing obesity as a disease, as opposed to a 'condition' or 'disorder', will result in improved health outcomes," the AMA Council on Science and Public Health  wrote in its conclusion.
But the association on Tuesday voted to classify obesity as a disease in order to "change the way the medical community tackles this complex issue," AMA board member Dr. Patrice Harris said in a statement.
Americans are classified as obese if they are 35 or more pounds overweight -- a condition that resulted in $147 billion in medical costs in 2008. Critics of the AMA classification claim that it suggests obesity is an uncontrollable condition, free from personal responsibility. Supporters believe it will simply help overweight Americans acquire the help they need.
"Up until now, without that classification, the path to obesity surgery (has been) very challenging," Dr. Leena Khaitan, director of the bariatric surgery program at University Hospitals Case Medical Center, told Fox News. "Oftentimes people have to pay extra to have that type of insurance policy, (and) many employers choose not to cover it because it's considered an elective operation. Now, we're saying obesity surgery is no longer elective, it is truly something that will treat (this) disease and is potentially lifesaving."
Khaitan added that the classification may also make it easier for obese patients to obtain insurance coverage for nutritional counseling.
In its statement on the change, the AMA also indicated that the classification "could result in greater investments by government and the private sector to develop and reimburse obesity treatments," and that employers may be less likely to discriminate on the basis of weight if they are required to cover obesity treatments.
But with doctors more willing to treat obesity as a disease and provide bariatric surgery, obese Americans may be more inclined to go under the knife than change their lifestyles.

You can share this story on social media: