Obama's ratings plummet after surveillance scandal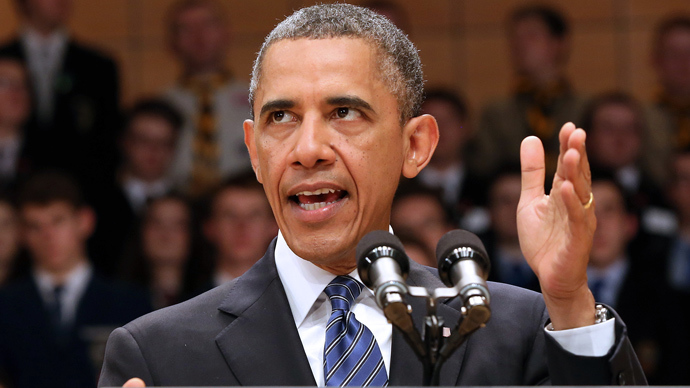 President Barack Obama's approval rating has dropped from 53 to 45 percent in the past month, with 61 percent of US poll respondents criticizing his handling of domestic government spying in wake of the NSA surveillance scandal.
The latest national CNN poll offers evidence that the president is suffering the political consequences of the National Security Agency's spy tactics, which were first revealed by whistleblower Edward Snowden this month.
The president's approval rating is now the lowest it has been in more than a year and a half, with the majority of Americans expressing ill feelings toward Obama. Fifty percent of poll respondents said they do not believe Obama is honest and trustworthy, 54 percent disapprove of his job handling, and 61 percent disapprove of the way he's handling US government surveillance, according to the CNN/ORC International survey.
About 60 percent of respondents also said that the US government is so large and powerful that it endangers American freedoms.
Obama's disapproval rating has been on the rise for months, increasing from 51 percent in January to 54 percent in April and 57 percent in June. 
"The drop in Obama's support is fueled by a dramatic 17-point decline over the past month among people under 30, who, along with black Americans, had been the most loyal part of the Obama coalition," CNN Polling Director Keating Holland said in the news agency's release of the findings.
Obama's approval rating among independent voters plummeted by 10 points in the last month, with only 37 percent agreeing with his job handling and 61 percent disapproving of it this month.
Holland believes the significant drop in Obama's support comes as a result of recent government scandals, including the IRS' targeting of conservative groups, the Justice Department's criminal pursuit of journalists, and the revelation of the NSA's extensive surveillance program.
"It is clear that revelations about NSA surveillance programs have damaged Obama's standing with the public, although older controversies like the IRS matter may have begun to take their toll as well," he told CNN.
Former President George W. Bush came under scrutiny for government surveillance when he was in office, but Obama's disapproval rating is now lower than his predecessor's. About 52 percent of Americans disapproved of Bush's handling of government surveillance of US citizens in 2006, which is 9 points lower than the 61 percent who felt that way about Obama today.
But criticism of the Obama administration stretches beyond the US. The president has lost significant support in Europe, particularly in France, Germany, and Italy. Obama is likely to face tough questions about the NSA's data collection program from policymakers at this year's G-8 Summit in Ireland.
Peter Schaar, Germany's freedom of information commissioner, told Reuters that he plans to ask questions "regarding these monstrous allegations of total monitoring of various telecommunications and Internet services." German Chancellor Angela Merkel also said she would bring up the topic with Obama while he is in Europe this week.
"The most upset party in all of this, I think, is the Germans," Michael J. Geary, an assistant professor at Maastricht University, told the National Journal. "The Germans were the most snooped-upon country, apparently, in March. In a country where memories of the former East German Stasi are still quite fresh, the response has been quite critical."
Markus Ferber, a member of Merkel's Bavarian sister party and a member of the European Parliament, last week accused Washington of using "American-style Stasi methods."
"I thought this era had ended when the DDR fell," he said, referring the German Democratic Republic.
Obama's meeting with Russian President Vladimir Putin is equally likely to culminate in a discussion about the NSA's surveillance program, especially since recent documents uncovered the agency's interception of classified communications of former Russian President Dmitry Medvedev.
The unraveling of the NSA's surveillance program has taken a hard hit at Obama's reputation, both domestically and internationally. And as Obama meets with European leaders this week, he will likely face further criticism for a program that has thrust the discussion of government spying onto the global stage.
"We certainly understand that, like the United States, countries in Europe have significant interests in privacy and civil liberties," Ben Rhodes of the National Security Council told the National Journal. And with the majority of Americans disapproving of their president's job handling and European leaders publicly condemning Obama, the administration will face tough questions at the G-8 Summit and beyond.  
You can share this story on social media: