Obama's rating plummets to all time lows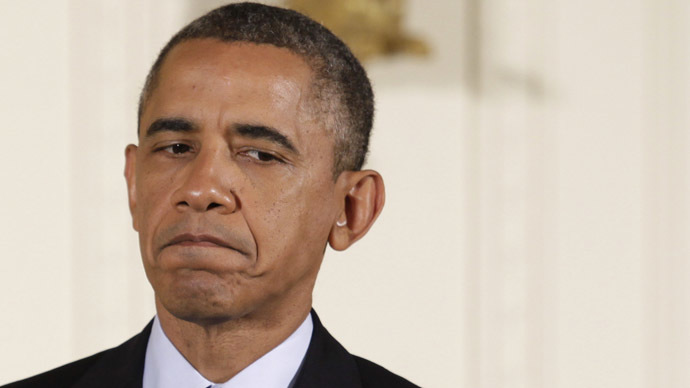 President Barack Obama's approval rating hit an all-time low as public frustration continues to grow over a series of issues, according to a new NBC News/Wall Street Journal poll.
Obama's approval rating dropped by five points to 42 percent, compared to 51 percent who disapprove of his job performance. Earlier this month, an NBC/WSJ poll taken during the government shutdown pegged Obama's approval rating at 47 percent.
Even Obama's personality ratings have flipped, as 41 percent of Americans have a positive view of the president while 45 percent see him in a negative light.
According to the pollsters, there's no particular issue that's dragging down the president's poll numbers. Instead, they believe a whole host of situations that have developed since the early summer are to blame, including revelations about the NSA's surveillance program, Obama's handling of the chemical weapons crisis in Syria, and problems with the rollout of the Affordable Care Act.
"Personally and politically, the public's assessment is two thumbs down," said pollster Peter Hart to NBC News.
While Obama's numbers are bad, his Republican opponents are in even worse territory. With a 22 percent approval rating, the GOP fell to another historic low in the poll after hitting 24 percent earlier this month. Fifty-three percent of the country has a negative view of the GOP, and more Americans still cast blame for the government shutdown on Republicans than either Democrats or the president.
The public's general view of the legislative branch continues to worsen as well, with 63 percent saying they would vote to replace their own member of Congress. Seventy-four percent said that, rather than solving the country's problems, Congress is helping cause more. Fifty percent of the country expects another government shutdown, and only 22 percent see the U.S. heading in the right direction.
As for the Affordable Care Act, the troubled debut of HealthCare.Gov put a dent in the public's view of the law, but not by as much as could be expected. Thirty-seven percent of Americans think it's a good idea (a drop of one percent compared to earlier this month), while 47 percent think otherwise.
You can share this story on social media: