Obama on Iran: We won't take military option off the table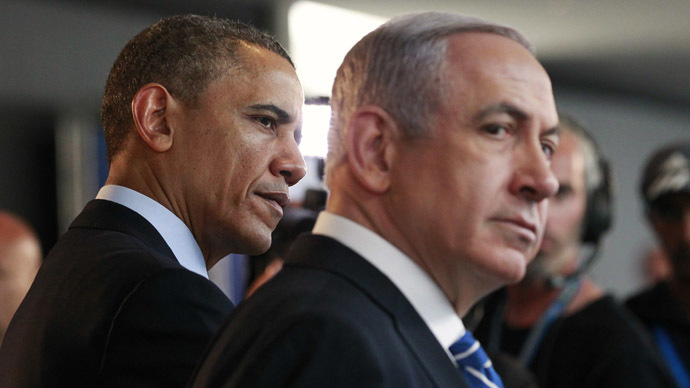 The US "won't take any options off the table, including military action" to ensure that Iran does not develop nuclear weapons, President Barack Obama has told Israeli Prime Minister Benjamin Netanyahu.
Obama met with Netanyahu at the White House Oval Office on Monday morning, just three days after his historic phone conference with new Iranian President Hassan Rouhani. The call between the US and Iranian Presidents was the first high-level contact between Washington and Tehran in three decades.
The phone call fueled hope for a breakthrough in a years-long standoff between the West and Iran over Tehran's nuclear program. On Friday, following the phone conversation, Obama said that Rouhani indicated that "Iran will never develop nuclear weapons," hailing the sentiment as a major step forward in relations between the two countries.
On Monday, seeking to ease Israeli concerns about Washington's engagement with Tehran, Obama said that Iran must prove its words with actions.
"Given the statements and actions from the Iranian regime in the past – the threats against Israel, the acts against Israel – it is absolutely clear that words are not sufficient, that we have to have actions that give the international community confidence that in fact they are meeting their international obligations fully and that they are not in a position to have a nuclear weapon," he said.
Netanyahu echoed Obama's sentiments, saying that "Iran's conciliatory words have to be matched by real actions: transparent, verifiable and meaningful actions."
According to Obama, because of "extraordinary sanctions" put in place against Tehran over the past several years, the Iranians are now prepared to negotiate.
He underlined that both the US and Israel agree that "it is imperative" that Iran does not obtain nuclear weapons. Washington will be in consultation with Israel and other allies in the region during the negotiation process, and hopes that the issue can be resolved through diplomatic means.
However, Obama stated that "we take no options off the table, including military options." 
According to Netanyahu, "Iran is committed to Israel's destruction." Israel says the "ultimate test of a future agreement with Iran" is that Tehran fully dismantles its military nuclear program. 
The Israeli Prime Minister praised Washington's efforts in trying to settle the thorny issue, and urged the US not to lift economic sanctions against Iran.
In Netanyahu's view, it was thanks to "the combination of a credible military threat" and the pressure of sanctions that brought Iran to the negotiating table. Those pressures must be kept in place and "should not be lessened until there is verifiable success," he told journalists after his meeting with Obama. 
Israel believes sanctions should be tightened if Iran continues to advance its nuclear program during negotiations.
Ahead of his visit to the US, Netanyahu said he intended to "tell the truth in the face of the sweet talk and charm offensive of Iran." On Tuesday afternoon, he will give a speech before the UN General Assembly in New York.
Rouhani, compared to his predecessor Mahmoud Ahmadinejad, has taken a softer tone on Iran's controversial nuclear program. On his return from the UN General Assembly in New York, where he also spoke over the phone with Obama, Rouhani said he told the US leader that Tehran's nuclear program was a right of the Iranian nation, a matter of development, and a "national pride."
You can share this story on social media: