Obama nominates Jack Lew, White House chief of staff, as new secretary of Treasury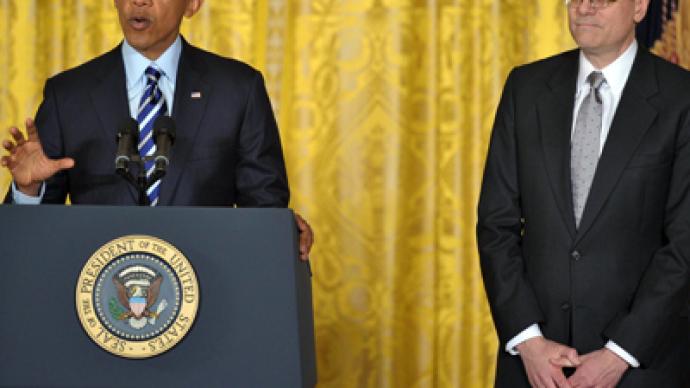 White House Chief of staff Jack Lew has been nominated by President Barack Obama to serve as the next secretary of the United States Treasury. Pres. Obama made the endorsement Thursday afternoon from Washington.
Lew, 57, is slated to replace current Treasury Secretary Timothy Geithner and become the principal economic advisor to the executive branch during Pres. Obama's second term in office. A former director of the Office of Management and Budget, Lew is expected to be confirmed by the Senate for his new role in the coming days and will eventually take on the position after the commander-of-chief retakes the oath of office in less than two weeks. Announcing his nomination, Pres. Obama said Thursday he could not think of a better person to oversee the Treasury during his second term than Lew. "I trust his judgment [and] I value his friendship," said Obama. "I hope the Senate will confirm him as quickly as possible."Previously, Lew worked as an aide to the late House Speaker Tip O'Neill in the 1980s and twice served as the director of the Office of Management and Budget (OMB), once under former President Bill Clinton and once under President Obama. He began serving as the president's chief of staff in January 2012.As OMB director under Clinton, the Harvard and Georgetown University grad made financial decisions between 1998 and 2001 that led to a budget surplus. In 2011, Lew played a significant role in spearheading talks with congressional leaders that led to an increase in the US debt ceiling during a time of heated partisan debates.Lew has several years' experience in the private sector under his belt, having served as chief operating officer at the Alternative Investment Unit at Citigroup from 2006 to 2008."[He] has had years of experience toiling in the fiscal trenches," NPR's Mara Liasson reported in December. "Before he was White House chief of staff, Lew was Obama's budget director – a job he'd also held in the Clinton White House. After serving in the Clinton administration, Lew followed the well-worn path from White House to Wall Street."The policy wonk's past successes working with Congress have prompted Obama to consider him for the position of Treasury secretary after Geithner's term ends this month. Sec. Geithner, on hand in Washington for the nomination, called his likely successor "a man of exceptional judgment."With a $16.4 trillion deficit and continuous disagreements in Congress over raising the country's debt ceiling, the president hopes that Lew can use his expertise and past record of success to mend the ailing US economy. Accepting the president's nomination, Lew said from the White House on Thursday that he is both "honored and grateful that you asked me to do this." Partisanship in the 112th Congress stalled legislators from effectively solving a dispute concerning the debt ceiling and the federal budget and almost sent the country over the fiscal cliff, but Lew's past work with both parties during the Reagan, Clinton and Obama administrations has ignited hope that he can bring Congress into agreement."Jack is more concerned about what's fair than any personal attention or credit," Pamela Jackson, who worked with Lew when Tip O'Neill was speaker of the House, told the Christian Science Monitor. "He was an integral and important part of those (tax policy and Social Security) negotiations as a trusted advisor to the speaker." White House press secretary Jay Carney this week said he would "not get ahead of the president" in announcing the appointment of Lew to the Treasury, but called him an "extremely valuable adviser to the president."Stan Collender, a former staff member of the Senate and House budget committees, told Bloomberg News that Lew has "got the big view, he's got the president's trust.""You got to look at this job as not just being secretary of the Treasury but being the chief economic policy maker," he said. "And that's what he brings."That isn't to say, though, that his nomination is made without opposition. Sen. Jeff Sessions (R-Alaska) has released a statement urging his colleagues on the Hill not confirm the president's endorsement."Jack Lew must never be Secretary of Treasury," Sessions says in a statement this week. "His testimony before the Senate Budget Committee less than two years ago was so outrageous and false that it alone disqualifies," he says.
You can share this story on social media: