Obama nominates drone program proponent to lead DHS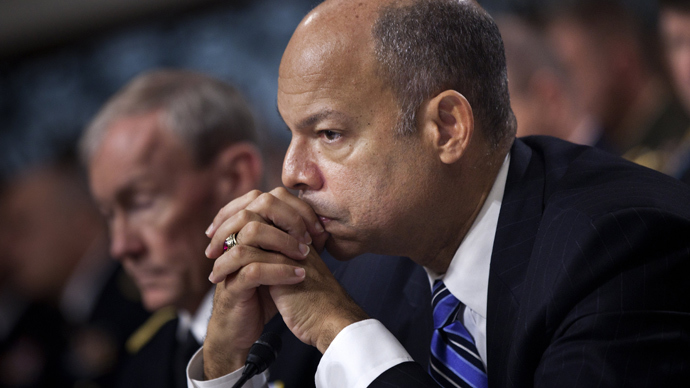 President Barack Obama has chosen a former Pentagon attorney who defended the extrajudicial killing of American citizens to man the helm of the United States Department of Homeland Security and replace outgoing Secretary Janet Napolitano.
Jeh Johnson, a general counsel for the Pentagon during the president's first term in office, was named by Mr. Obama as his choice for new DHS secretary during a Friday afternoon press conference.
"The president is selecting Johnson because he is one the most highly qualified and respected national security leaders," a senior administration official told the Washington Post on Thursday while speaking condition of anonymity. "During his tenure at the Department of Defense, he was known for his sound judgment and counsel."
Johnson, 56, served as a special counsel during John Kerry's unsuccessful 2004 run for the presidency before assisting with Obama's campaign four years later. During his first week in office, Obama nominated Johnson as DoD general counsel and he was confirmed by the Senate in Feb. 2009.
Up until his resignation from Defense Department attorney in December 2012, Johnson advised the largest military in the world, including during historic matters regarding the repeal of the Pentagon's ban on openly gay troops and the reform of military commissions.
That same span in the Pentagon was also marred by Obama administration decisions that opponents of the president's latest pick have been quick to pounce on.
While working as one of the top attorneys for the US military, Johnson authorized the execution of Anwar al-Awlaki, an American citizen and suspected senior figure in Al-Qaeda who was killed by a drone strike in Yemen in late 2011. That slaying was carried out by an operation conducted by the Pentagon in cooperation with the Central Intelligence Agency and has drew immense criticism directed at the White House and the president's extrajudicial killing of an American citizen.
The New York Times reported shortly after that Johnson told attendees at a speech at Yale Law School that "Belligerents who also happen to be US citizens do not enjoy immunity where non-citizen belligerents are valid military objectives."
The president postponed offering full justification for the attack until this past May when he said, "I do not believe it would be constitutional for the government to target and kill any US citizen -- with a drone, or with a shotgun -- without due process . . . But when a US citizen goes abroad to wage war against America and is actively plotting to kill US citizens, and when neither the United States, nor our partners are in a position to capture him before he carries out a plot, his citizenship should no more serve as a shield than a sniper shooting down on an innocent crowd should be protected from a SWAT team."
Johnson also served as general counsel during the height of the WikiLeaks scandal that involved the unauthorized disclosure of hundreds of thousands of sensitive documents. In a letter to the whistleblower organization published in August 2010, Johnson blamed WikiLeaks for their "illegal and irresponsible actions," and said that the leaking of classified materials aided America's enemy in "their own terrorist aims." Earlier this year, a military judge said that Chelsea Manning, the Army analyst who admitted to giving those files to WikiLeaks, did not aid Al-Qaeda by supplying the website with documents.
Johnson said in the same letter that the Pentagon "demands that NOTHING further be released by WikiLeaks, that ALL of the US Government classified documents that WikiLeaks has obtained be returned immediately and that WikiLeaks remove and destroy all of these records from its databases."
Mr. Obama officially nominated Johnson at a 2 p.m. meeting, paving the way for the Senate to formally decide if they will appoint the president's pick.

"If confirmed by the Senate, I promise all of my energy, focus and ability towards the task of safeguarding our nation's national and homeland security," Johnson said after being introduced by the president.

You can share this story on social media: