Trigger jitters: Arms sales surge as Obama stays in office
Published time: 10 Nov, 2012 22:15
Edited time: 11 Nov, 2012 02:15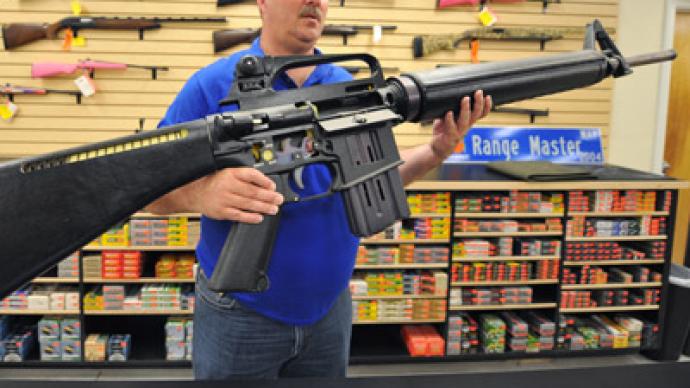 Immediately after President Obama's re-election, gun sales have risen dramatically, with buyers fearing new restrictions on firearms.
During the October 16 presidential debate, CNN moderator Candy Crowley asked the president to clarify how he would keep assault weapons "out of the hands of criminals." Obama said he was considering reintroducing an expired ban on civilian purchases of assault weapons. Ever since – and especially after the election – gun sales and background checks for firearm licenses have been on the rise. Some Americans have expressed fears about restrictions and higher taxes on assault weapons and ammunition.
"Sales are up," John Kielbasa, owner of Fernwood Firearms in Hankins, NY, told CNN. "I had a guy waiting here first thing in the morning [after the election.] He came in, bought two AK-47s."
While there have been no substantial changes in gun law under Obama's leadership, his debate comment sparked deep concerns that things would change during his second term.

"They're worried about tax increases on ammunition, and the second thing's probably gonna be the assault weapons," Colt Page of Colt's Gun and Pawn told WITN TV. "AR-15s, AK-47s are typically hit hardest by government control."
Firearm manufacturer Smith & Wesson Holding Corp. saw a 10.8 percent increase in its stock price after the president was re-elected. Shares had already doubled since the beginning of the year and spiked after the election results were announced.
Gunmaker Sturm Ruger's stock also jumped dramatically on Wednesday after the election, and its earnings per share rating is 98 – among the highest in its industry.
The online gun company Ammoman.com told customers not to call because its phone lines were jammed from the high number of requests it received following the election.
"It might take a few days to respond to an e-mail. We are about 3,400 e-mails behind. We have hired extra people for the office and we are working nights to get this done," the company, overworked with the high number of customer requests, wrote on its website. "Order confirmations may be delayed due to the volume of business, please do not re-order because you may be billed twice."
The FBI announced that the number of firearms background checks rose by 18.4 percent in October – which is usually an indicator of upcoming firearm sales. Sturm Ruger's Accumulation-Distribution Rating has also jumped from a grade of B to the lowest grade – E, meaning there is a much higher demand than supply for its firearms.
Some Americans are concerned that the president could enact a ban that mirrors the Federal Assault Weapons Ban signed into federal law by former President Bill Clinton in 1994. This 10-year ban prohibited the manufacture of semi-automatic firearms, also known as assault weapons, for civilian use. These weapons, which include AK-47s, load ammunition cartridges automatically, making it easy to fire bullets in quick succession – but not as fast as fully automatic weapons.
This isn't the first time gun sales have spiked after Obama won the presidency. After the 2008 election, Americans also expressed concern that their access to weapons would be reduced, and weapons manufacturers also saw a significant spike in sales. The year Obama was first elected, the FBI conducted 13.4 percent more background checks for weapons than the year before.
"Buyers and sellers attribute the surge to worries that Obama and a Democratic-controlled Congress will move to restrict firearm ownership, despite the insistence of campaign aides that the president-elect supports gun rights and considers the issue a low priority," CNN wrote after the 2008 election.
The situation is almost identical, but the House is now controlled by Republicans, making it even more difficult for the president to take any sort of action against gun rights.
"If he did it, it would be a really stupid political move," said Bob Thompson, an ECU Political Science Professor. "The president doesn't have the ability to strengthen any law beyond what Congress has already authorized – and especially along these lines."