Obama flip flops on union promise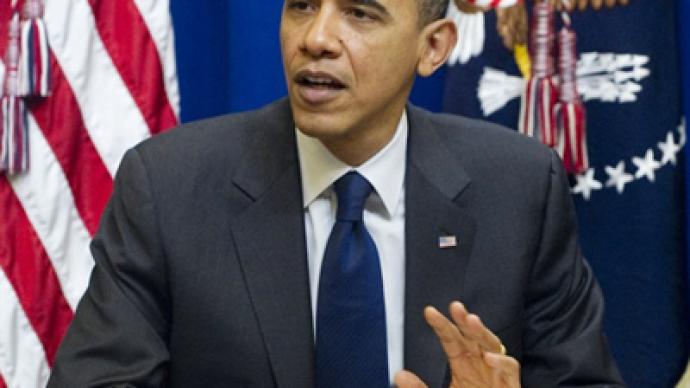 As thousands of outraged protesters march on their state capitols in a fight to maintain their workers' rights – US President Barack Obama has stayed behind the scenes, opting not to get involved.
A new labor revolution of tens of thousands of workers fighting to preserve the rights that many states are trying to rip away has been taking place across America – rights of public sector unions to effectively protect their working conditions and collective bargain rights are under threat.In 2007, then presidential candidate Obama said, "If American workers are being denied their right to organize and collectively bargain when I'm in the White House, I'll put on a comfortable pair of shoes myself, I'll will walk on that picket line with you as President of the United States of America. Because workers deserve to know that somebody is standing in their corner."However, President Obama has not hit the picket line. He has not joined protestors, he has not publicly chastised state lawmakers and he has not addressed the plight of state public workers. He has been quick to address unrest in the Middle East and violence in North Africa, calling on foreign leaders to heed the words of protesters calling for better government services and less corruption. On the domestic front however, the president is set to hold meetings with Democratic governors to discuss the economy, Republicans are not invited, and he will later enjoy lunch with Vice President Joe Biden. Many union workers who actively supported Obama during his campaign are not amused. "I voted for Obama but I am tired of Democrats turning their backs," exclaimed a pro-union protestor in the state of Wisconsin. "We've only heard him say one statement really on this matter. America is asking – why isn't Obama here? Why isn't the President getting more involved?" commented another. Mary Bottari, director of the Real Economy Project at the Center for Media and Democracy added, "President Obama will not win 2012 without states like Wisconsin. And he should be here standing with the workers."The increasing lack of support and solidarity from the White house is only strengthening these workers commitment to their fight. As outrage continues to spread across the states it could be just a matter of time before it reaches Washington, forcing Obama to make an appearance.
You can share this story on social media: