Obama approved F-16 fighter jets as gift to Egypt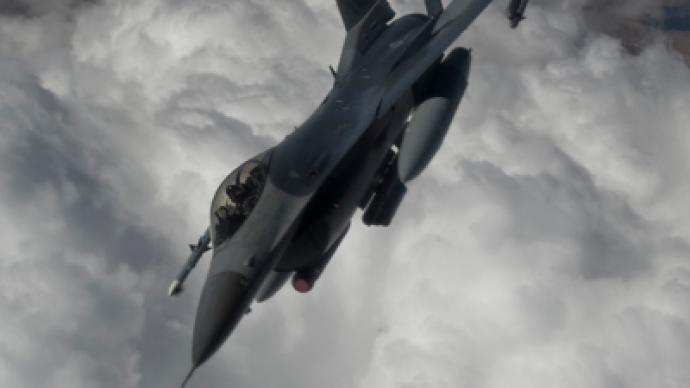 Despite instability due to the new Islamic government in Egypt, the US is sending more than 20 F-16 fighter jets to Egypt as part of a $1 billion foreign aid package.
The first four Lockheed Martin F-16 fighter jets are set to arrive in Egypt on Jan. 22, an unnamed source told Fox News. Although Egypt already has more than 200 such planes and the latest delivery fulfills an order placed two years ago when former President Hosni Mubarak was still in power, the protests and widespread instability in Egypt have caused some to wonder if providing jets at this time is a bad idea.The new Islamic president, Mohammed Morsi of the Muslim Brotherhood, has recently made political moves that have fueled anger and criticism both in the West and among secular Egyptians. Mass demonstrations are currently taking place in Cairo and several other Egyptian cities against Morsi's decision to hold a referendum on a pro-Islamist constitution. Secular, liberal and Christian groups are demanding that Morsi cancel this referendum.Groups in opposition to the referendum are due to converge on the presidential palace. The opposition has already breached a barrier outside the palace, but has been unable to pass the wall of concrete blocks and tanks that guard its perimeter. Still, several thousand are protesting in the presidential compound after being let in by the Republican Guard.In the days leading up the referendum, Morsi authorized his military to secure state buildings and arrest civilians. Six Egyptian Air Force F-16 fighter jets also flew symbolically over Cairo on Monday, military sources told DEBKAfile.Providing Egypt with more than 20 fighter jets at a time when tensions are so high may not be the best timing. The move may also cause President Obama to appear as if he is standing behind Morsi."Obama is therefore using those warplanes as a signpost for the Muslim-Arab Middle East – and the Israeli voter – to show them that he is sticking unswervingly to his policy of support for the region's Muslim Brotherhood – and especially the Egyptian president – even if Morsi did slip up by a grab for sweeping powers that alienated most of the opposition," according to DEBKAfile.Even if the US is simply fulfilling a deal it made two years ago with Mubarak, providing the more than 20 fighter jets in 2013 does make the Obama administration appear to be in support of the controversial Egyptian regime that is now in power."The Obama administration wants to simply throw money at an Egyptian government that the president cannot even clearly state is an ally of the United States," said Florida Rep. Ileana Ros-Lehtinen, the Republican chair of the House Committee on Foreign Affairs.Malou Innocent, a foreign policy analyst at the Cato Institute, warned reporters at Fox that providing Egypt with military resources could haunt the US in the future if a conflict between Israel and Egypt were to arise."Should an overreaction [by Egypt] spiral into a broader conflict between Egypt and Israel, such a scenario would put US officials in an embarrassing position of having supplied massive amounts of military hardware … to both belligerents," she said. "Given Washington's fiscal woes, American taxpayers should no longer be Egypt's major arms supplier."The $213 million order, paid for by US taxpayers, will provide the Egyptian air force with newer and improved resources. Its fleet of current fighter jets are older versions of the F-16s.
You can share this story on social media: