Obama threatens Senate with cybersecurity executive order
Published time: 6 Aug, 2012 18:35
Edited time: 6 Aug, 2012 22:38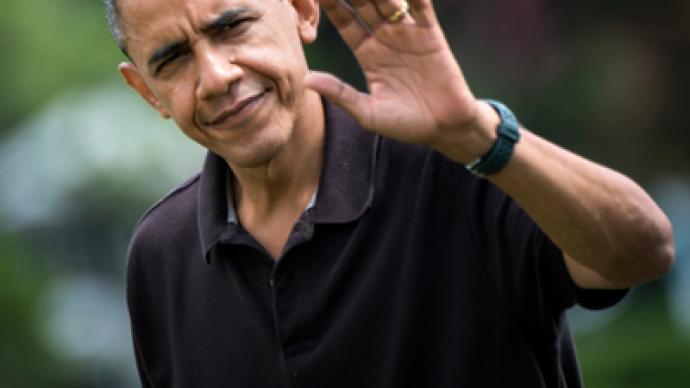 Although the Senate voted against cybersecurity legislation demanding new regulations in cyberspace, President Obama may issue an executive order to have the bill implemented without the approval of Congress.
Regardless of Congressional rejection, Obama claims "we can't wait," and may issue an executive order forcing companies to implement new cybersecurity standards.
Opponents of the bill have already accused the president of making illegal power grabs with some of his previous executive actions. To date, he has issued more than 130.
"Moving forward, the President is determined to do absolutely everything we can to better protect our nation against today's cyber threats and we will do that," said White House Press Secretary Jay Carney in an e-mail to Washington newspaper The Hill.
The bill Senate voted down would require private companies and the government to share information regarding cybersecurity threats. It would also require better protection of critical pieces of infrastructure, like water filtration facilities and the power grid, and would give the Department of Homeland Security the authority to lead the cybersecurity team.
President Obama has long been urging Congress to pass the Cybersecurity Act of 2012, which was introduced by Senators Joe Lieberman (I-CT) and Susan Collins (R-ME). Last year, the White House proposed its own cybersecurity legislation, presenting more than 100 briefings on the issue and testifying at 17 Congressional hearings.
Last month, an Obama op-ed in the Wall Street Journal emphasized the need for greater cybersecurity legislation. The president painted a picture of how America's enemies could cause widespread destruction without setting foot in the US. All it takes, Obama said, is hackers who can break through private companies' online security.
"In a future conflict, an adversary unable to match our military supremacy on the battlefield might seek to exploit our computer vulnerabilities at home," he wrote. "Taking down vital banking systems could trigger a financial crisis. The lack of clean water or functioning hospitals could spark a public health emergency. And as we've seen in past blackouts, the loss of electricity can bring businesses, cities and entire regions to a standstill."
But those who voted against the bill said the legislation would burden businesses with unnecessary and ineffective regulations.
Only 52 Senators voted for the bill. 
And rather than wait for Congress to come to an agreement on cybersecurity, Obama could make a move that would enrage the bill's opponents, bypassing the Senate's decision and implementing the new laws without approval. Even Senator Collins, one of the bill's creators, who has been fiercely lobbying for its support, is against the principle of forcefully implementing it.
"I'm not for doing by executive order what should be done by legislation," she said.