Obama forked over billions to administration-linked energy firms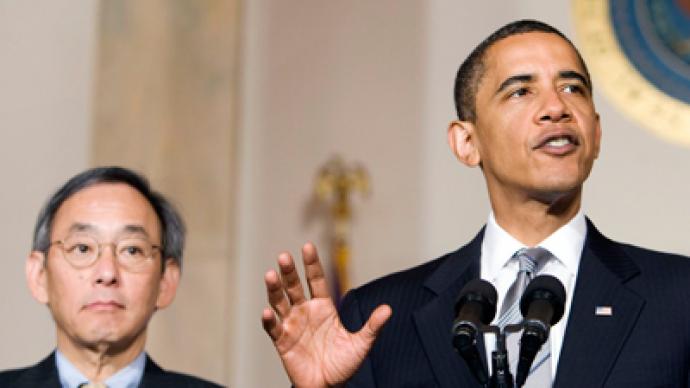 An investigation has revealed that the White House approved billions of dollars in federal funding for clean-energy firms. It also happens that nearly two-dozen of those companies have close ties with the president's own cabinet.
The Washington Post reveals this week that a probe conducted by the news agency has linked the Obama White House with the funding of 21 firms that have ties with administration insiders. Of the nearly two-dozen separate energy companies that were awarded assistance, nine of them were discovered to have links with VantagePoint Venture Partners. In all, those nine firms were dished out $2.46 billion from the Department of Energy.Among those that advise the US Energy Department is Sanjay Wagle, who attended fundraiser events for the president during the last election cycle while managing a group, Clean Tech for Obama. Only in recent years has Wagle had a White House-appointed position, though. Prior to his latest career move, Wagle worked directly with VantagePoint Venture Partners.In addition to exposing ties between Wagle's former firm and the White House, the Post reveals that four other Obama administration insiders have questionable links with companies that have prospered due to federal assistance. The Post attests that The Energy Department offered $737 million in aid to Good Energies, where Assistant Secretary David Sandalow was previously employed. Steve Westly, currently a board member on Energy Secretary Steven Chu's advisory board, was also named in the investigation. His firm, the Westly Group, has been tied to $600 million in federal financing.The White House is responding to allegations that the ties between former private sector energy workers-turned-Obama administration officials and federal assistance are exaggerated. Addressing concerns of the administration being in cahoots with related energy companies, White House officials stress that those named in the Post's inquiry were not involved in the decision making process for granting award money. Allegation aside, it does add yet another chapter to the tale of unusual activity between the White House and energy firms.Obama and his relationship with DOE-related companies have come under increased scrutiny since last year's failure of solar panel makers Solyndra. President Obama had visited the company's California plant and touted them as an example that other American businesses should follow. His administration would later award Solyndra with a loan guarantee for $535 million, which the company used all but $8 million before going bankrupt months later.Under Obama's watch, the Department of Energy also approved a $43 million loan for a clean power facility in New York State to be operated by Beacon Power. Three months after awarded the funding, Beacon also filed Chapter 11. Last month, Obama endorsed the Ener1 battery company, which Congress had previously okayed a $118 million award to. Three days after Obama spoke highly of the company during his 2012 State of the Union address, they went under.The White House is not hesitating to debunk allegations alluded to by the Post. So far they have been quick in coming after any correlation between Obama administration insiders and their former energy companies that have benefited under the current president. "As is evident from the 10-month long congressional investigation into Solyndra, Energy Department loans and grants are decided on the merits," White House spokesman Eric Schultz responded. "What's more, these are all professionals with expertise in clean-energy science, finance or both — but none of them play a decisional role in DOE awards and none of them are in positions of regulating the industry."For an administration that has been continuously plagued by power firms failing mysteriously after Executive Branch-backing, the results of the probe couldn't come at a worse time. Unless, of course, the Post waited until Election Day was even closer.
You can share this story on social media: