Obama might be the first president to spend $4 trln in one year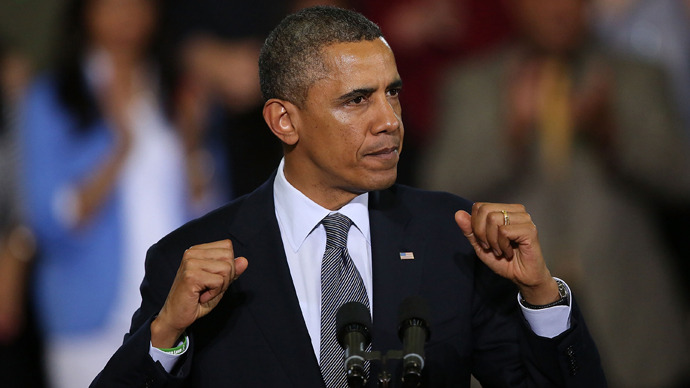 Judging by budget proposals released by the White House, Barack Obama might become be the first US president in history to spend more than $4 trillion in one year.
The White House Office of Management and Budget has released proposals for fiscal year 2014, while also indicating that the administration expects to spend $4.09 trillion in fiscal year 2016 and $4.25 trillion in 2017.
The federal government would gradually creep towards the $4 trillion mark in the years ahead, spending a proposed $3.78 in 2014 and $3.98 in 2015.
At the same time, the president plans to keep annual deficits at a high level: the OMB revealed that annual deficit levels will never again run as low as $458.5 billion – the deficit level acquired during former President George Bush's last term in office.
The deficit levels in particular have been skyrocketing since Obama took office in 2009. And in its budget proposal released this month, the OMB does not predict that the budget will balance under the current administration.
The most recent numbers have generated significant outrage, mainly among conservative Republicans concerned about the government's spending habits.
Donald Lambro, a Washington Times columnist, complained that the administration's proposed budgets would "further threaten the government's shaky solvency and undermine our economic future."
Republican lawmakers have recently come out with their own proposed budget, claiming that "unless we change course… we will have a debt crisis."
But the president argues that at a time where the economy remains fragile, austerity is not the answer. Speaking at a community college in Northern Virginia in February, the president emphasized the importance of spending to cure the ailing economy.
"The main idea in the budget is this, at a time when our economy is growing and creating jobs at a faster clip, we've got to do everything in our power to keep this recovery on track," he said.
After the OMB released the 2,500-page budget packet this week, which includes a number of proposals such as higher taxes on cigarettes and spending on climate change research, the president defended his administration's decision to increase spending.
"There can be no sacred cows for either party," he said, describing how no proposal would ever sit perfectly well with either Democrats or Republicans.
But regardless of how much of an increase lies in the future budgets, it is unlikely that Obama's administration will spend less than previous presidents.
You can share this story on social media: