Obama blasted for cracking down on free press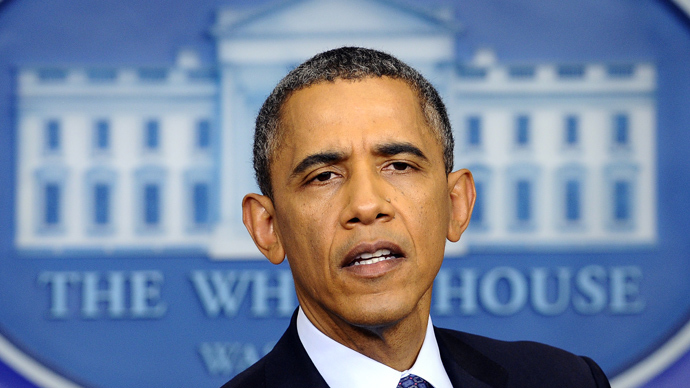 A letter to the White House, a laundry list of recommendations for the president and a 29-page report about the administration's assault on free press are all compiled in the latest offering from the Center to Protect Journalists.
The CPJ, a non-profit founded over 30 years ago to promote "press freedom worldwide and defends the right of journalists to report the news without fear of reprisal," published a special report on Thursday penned by longtime Washington Post executive editor Leonard Downie Jr. in which he dismantles United States President Barack Obama's treatment of journalists with assistance from the country's foremost national security reporters.
Despite campaigning heavily on the promise of increased government transparency and the most open administration yet, Pres. Obama's four-and-a-half-years in the White House so far have included a number of instances cited by Downie in which reporters were investigated, whistleblowers reprimanded and administrative actions allowed for the chilling of journalism, both domestically and on a global level.
Pres. Obama "came into office pledging open government, but he has fallen short of his promise," Downie prefaces his report.
"Journalists and transparency advocates say the White House curbs routine disclosure of information and deploys its own media to evade scrutiny by the press," he continues, adding, "Aggressive prosecution of leakers of classified information and broad electronic surveillance programs deter government sources from speaking to journalists."

The report and its accompanying articles and letter to the White House mark a rare occasion in which the CPJ single-out the US for infringing on press freedoms, turning away from the international examples that are usually investigated by the organization, such as journalists exiled, imprisoned or killed for doing their work, and restrictions on the open-media in more repressive countries overseas.
Glenn Greenwald, the Guardian writer who has worked closely with a trove of top-secret documents supplied to his newspaper, wrote on Twitter that he considered the report to be a "scathing indictment" of the White House's press attacks.

It's hard to imagine how this scathing indictment from @pressfreedom of Obama admin's press attacks isn't big news: http://t.co/c75yODVyG9

— Glenn Greenwald (@ggreenwald) October 10, 2013
Drawing on the recent examples of WikiLeaks source Chelsea Manning and National Security Agency leaker Edward Snowden — as well as other US citizens charged with espionage for exposing arguably egregious government initiatives with the press — Downie and his colleagues question the White House's efforts to handle the unauthorized disclosures of classified information and the chilling effect those attempts have had on journalists around the globe.
"Six government employees, plus two contractors including Edward Snowden, have been subjects of felony criminal prosecutions since 2009 under the 1917 Espionage Act," recalls Downie, who acknowledges that the tally of Americans indicted under that law exceeds double the total from all previous administrations combined.
Manning is currently serving a 35-year prison sentence for leaking sensitive diplomatic and military documents to WikiLeaks while serving in the US Army, and before that was held in solitary confinement in a military brig for almost a year. And Snowden — the former intelligence contractor that exposed the NSA's vast surveillance apparatus — has resorted to accepting asylum in Russia while he battles an indictment that could carry an even harsher sentence than the soldier.

And while the government has relied on established legislation to legitimize those cases, Downie and company caution that the administration's tactics have transformed the journalism industry as a whole thanks to frequent fear among reporters that every aspect of their lives is under surveillance.

"Numerous Washington-based journalists told me that officials are reluctant to discuss even unclassified information with them because they fear that leak investigations and government surveillance make it more difficult for reporters to protect them as sources," wrote Downie.

Scott Shane, the New York Times national security reporter who contacted former Central Intelligence Agency officer John Kiriakou before he was indicted for espionage, told Downie that the White House's tactics with regards to silencing leaks is "a real problem."

"Most people are deterred by those leaks prosecutions. They're scared to death. There's a gray zone between classified and unclassified information, and most sources were in that gray zone. Sources are now afraid to enter that gray zone," Shane told him. "It's having a deterrent effect. If we consider aggressive press coverage of government activities being at the core of American democracy, this tips the balance heavily in favor of the government."
Only hours before the CPJ published their findings, Pulitzer Prize-winning journalist Barton Gellman told an audience at a panel in Washington that "Once you are an actual target, there are no technological steps you can take to fully protect yourself" from surveillance, according to American Civil Liberties Union technologist Chris Soghoian.
At CATO event today, @bartongellman: Once you are an actual target, there are NO technological steps you can take to fully protect yourself.

— Christopher Soghoian (@csoghoian) October 9, 2013
Gellman, who has worked with the Guardian on the NSA secrets released by Snowden since June, is referenced several times in the CPJ's piece, but is far from the only reporter close to the Snowden case who has criticized Obama's response to those disclosures and the ones attributed to the WikiLeaks source formerly known as Bradley Manning.

"We know from at least three national security reporters that their sources are hesitant to speak to them, and [they] explicitly cite the treatment of Bradley Manning as a reason as to why they are hesitant to disclose abuses by the United States government in the national security sector," WikiLeaks founder Julian Assange told RT earlier this year.

In the CPJ report, White House press secretary Jay Carney refutes those allegations by saying, "The idea that people are shutting up and not leaking to reporters is belied by the facts."

But Jean-Paul Marthoz, a senior advisor for the CPJ, added in his own report this week that "any restrictions on US journalists' freedom to report inevitably reverberates around the globe," and accused the Obama administration of silencing the international media by curbing the activities of even domestic reporters who should be protected by the Constitution's guarantee of press freedom.

"CPJ is disturbed by the pattern of actions by the Obama administration that have chilled the flow of information on issues of great public interest, including matters of national security," reads a separate statement published by the organization this week. "The administration's war on leaks to the press through the use of secret subpoenas against news organizations, its assertion through prosecution that leaking classified documents to the press is espionage or aiding the enemy, and its increased limitations on access to information that is in the public interest -- all thwart a free and open discussion necessary to a democracy."

The CPJ has written the White House urging the president to "affirm and guarantee that journalists will not be at legal risk or prosecuted for receiving confidential and/or classified information," as well as to be more forthcoming about government surveillance programs, revise Department of Justice guidelines with regards to targeting journalists, retire the practice of using the Espionage Act to arrest reporters and sources and "Make good on promises to increase transparency of government activities and end government intimidation of officials who might speak to the press," among other requests.

"We understand that your administration and its Justice Department have heard the strong criticism of its use of secret subpoenas and responded with revised guidelines still to be implemented," the CFJ's top officers wrote the president. "And we appreciate your clear statements on the need for Americans to know and be able to publicly debate their government's practices regarding national security. But the actions of your administration do not lean toward openness."
You can share this story on social media: