Obama: No sense of motive in Boston Marathon bombing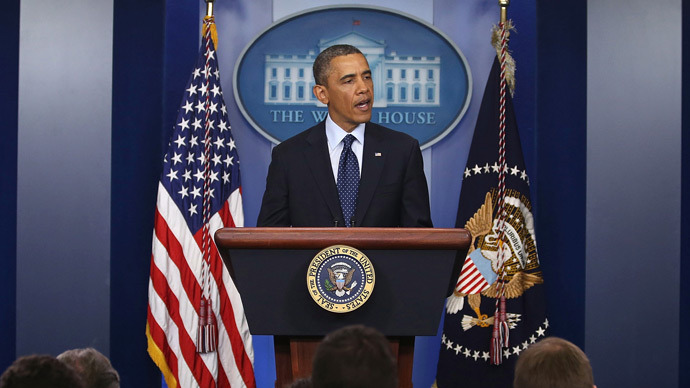 President Barack Obama said Tuesday that the United States Federal Bureau of Investigation is handling the bombings at the Boston Marathon as an act of terror but a clear motive has yet to be established.
Less than 24 hours after a pair of explosives detonated near the finish line of the annual 26-mile run in Boston, Massachusetts, Pres. Obama made his second address to the American public late Tuesday morning.
"Obviously our first thoughts this morning are with the victims, their families and the city of Boston," the president said from the White House in Washington.
So far three fatalities have been attributed to Monday's incident, as well as over 100 injuries.
"This was a heinous and cowardly act," said the president, "and given what we now know the FBI is investigating it as an act of terrorism."
"Anytime a bomb is used to target civilians, it is an act of terror," said Obama.
"The American people refuse to be terrorized."
So far the president says the FBI is not sure what to make of the attack. He said during Tuesday's briefing that he met earlier that day with FBI Director Robert Mueller, Homeland Security Secretary Janet Napolitano, Attorney General Eric Holder and Deputy National Security Advisor for Homeland Security Lisa Monaco, but the administration has been unable to identify a motive or suspect.
The president said investigators were unsure of who carried out the attack, and suggested the options are plentiful — the attack, said Obama, could have come from a terrorist either foreign or domestic, suspect, suspects or an entire organization.
He also suggested commenters should be less quick to jump the gun with coming to conclusions. "We don't have a sense of motive yet. Everything else at this point is speculation," said the president.
"In the coming days we will pursue every effort to get to the bottom of what happened and we will continue to be vigilant," he continued, adding that his administration has been directed to implement "appropriate security measures to protect the American people," the specifics of which were unannounced.
Moments before Pres. Obama address the nation, the central terminal of New York's LaGuardia Airport was evacuated after a suspicious package was found. The scene was determined to be safe shortly after.
You can share this story on social media: