Obama's Africa trip will cost taxpayers $100 mln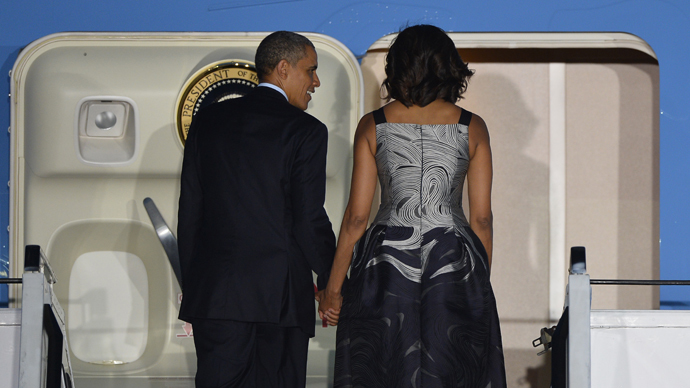 President Barack Obama's trip to Africa is estimated to cost American taxpayers $100 million – a hefty travel expense that has sparked criticism as the federal government is dealing with its sequester-related budget cuts.
The president is traveling to sub-Sahara Africa with his family from June 26 to July 3. The Obamas will be accompanied by hundreds of Secret Service agents and staff, which stack up transportation and accommodation costs. Military cargo planes will bring 56 vehicles including 14 limousines and three trucks loaded with bulletproof glass to cover the windows of the hotels where the Obamas will stay. Fighter jets will fly in the air space above the first family to provide round the clock protection.
"For the cost of this trip to Africa, you could have 1,350 weeks of White House tours," Rep. George Holding (R-N.C.) said on the House floor last week. "It is no secret that we need to rein in government spending, and the Obama administration has regularly and repeatedly shown a lack of judgment for when and where to make cuts… The American people have had enough of the frivolous and careless spending."
Holding reminded lawmakers of the $16 trillion debt the US carries on its shoulders, and scrutinized the administration work spending an estimated $100 million on a weeklong visit. Holding said that while it is important to have security for the first family, the costs for this particular trip are "excessive".
"The numbers don't lie: either the administration is bad at math, or they simply don't see a problem with their excessive spending," he added.
And while $100 million is a hefty price for a week of travel, the Obamas initially planned to spend even more: the first family had plans to go on a safari tour that would have included the expense of a sharp-shooting team to protect them against wild animals. But the Obamas cancelled the Tanzania safari to avoid bringing the counterassault teams. 
Although many presidents come under scrutiny for their travel expenses, Obama's Africa trip has been heavily criticized because he is incurring the costs at a time when the national debt is at its highest, government budget cuts have led to nationwide furloughs, and Americans continue to struggle in today's economy. The president has already been criticized for his lavish beach vacations in Hawaii, which have racked up significant transportation costs due to the island's flying distance from Washington. 
President Bill Clinton was also criticized for the expenses of his 1998 Africa trip, but the costs only racked up to $42.7 million at the time.
But the White House alleges that Obama's trip is a good deal, since he is providing invaluable attention to a region that is too often ignored.
"Frankly, there will be a great bang for our buck for being in Africa, because when you travel to regions like Africa that don't get a lot of presidential attention, you can have very long-standing and long-running impact from the visit," deputy national security adviser Ben Rhodes told The Hill.
The president and his family will travel to South Africa, Senegal and Tanzania, which will mark Obama's first official trip in which he solely visits Africa.

You can share this story on social media: