New York mayor accused of influencing police in favor of political allies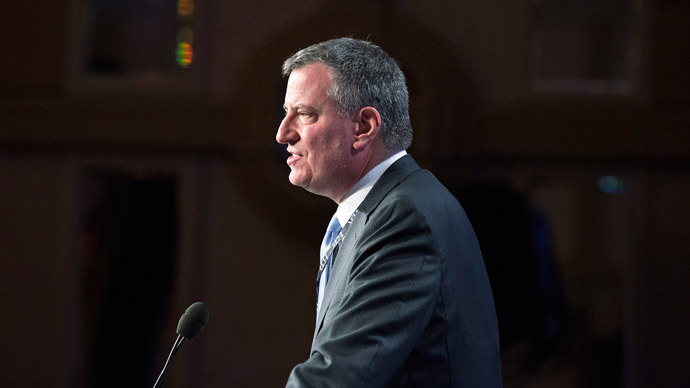 The actions of New York City Mayor Bill de Blasio are being questioned since a new report suggested he personally called the police to spare a political ally a night in prison.
According to the Wall Street Journal, the call came after Brooklyn pastor Orlando Findlayter – who had endorsed de Blasio's in last year's election and was also part of the mayor's inaugural committee – was pulled over Monday night for a traffic violation.
Findlayter was then brought in on two outstanding warrants issued after he failed to appear in court or pay his fine following an arrest at an immigration rally in October.
Soon afterwards, de Blasio called New York Police Department Deputy Chief Kim Royster to inquire about the pastor's arrest. The call was confirmed by the mayor's office, which also sent emails to other NYPD officials that evening.
"The mayor reached out to Deputy Chief Royster to get clarification on word that there had been an arrest of a respected local clergyman," mayoral spokesman Phil Walzak said, according to NBC News.
Royster stated that de Blasio did not ask for the pastor to be let go, and that Findlayter had already been released by the time she asked about the case herself.
"We always get inquiries from the mayor's office, and the inquiry we received is if this individual was arrested or taken into custody," she told the Journal. "When I inquired about it, the commanding officer said he was taken into custody, arrested and was going to be given a desk appearance ticket."
As the Journal noted, police are usually required to hold an individual overnight if they are brought in on outstanding warrants and cannot be arraigned before 1 a.m., when courts are scheduled to close. NYPD spokesman Stephen Davis said that in cases where there's no threat to the local community, the commanding officer can choose to release an individual at his discretion.
"[Deputy Inspector Kenneth Lehr] personally knows the bishop," Davis said, and he "took the option to give him a [desk appearance ticket]."
Findlayter reportedly told Lehr the reason he didn't appear in court before was because he thought his lawyers had cleared up the situation. He was ordered to appear in court on Tuesday to settle the issue of the outstanding warrants.
Still, the NYPD's explanation didn't sit right with everybody, some of whom questioned the mayor's phone call and others who raised concern over the police department's behavior. Speaking with the New York Post, Sgt. Ed Mullins of the Sergeants Benevolent Association said the decision to release the pastor was not made according to standard police procedure.
"If a guy has a warrant, you don't let him go. Period," Mullins said. "There is no 'discretion.' What if you release him [and] he drives a block, blows a red light and runs somebody over and kills him? As a [police] supervisor, you have a lot to answer for."
You can share this story on social media: