New York mayor promises IDs for undocumented immigrants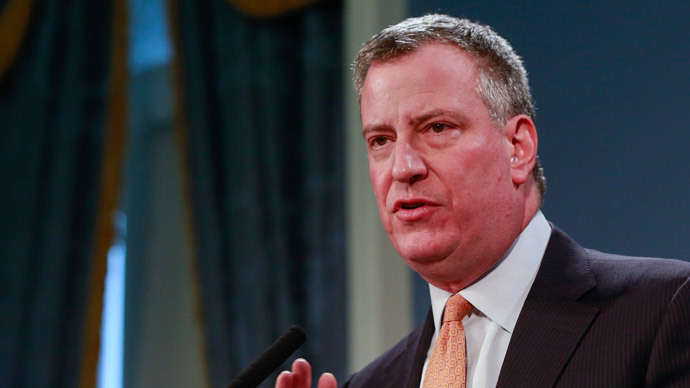 New York Mayor Bill de Blasio announced on Monday he will soon propose permitting the city to issue municipal identification cards to undocumented immigrants.
In his first State of the City address, de Blasio explained the move would enable undocumented individuals to live more normal lives – they would be allowed to open bank accounts, sign apartment leases, receive library cards, and gain access to other services they're otherwise barred from without a photo ID.
At the same time, the IDs will not allow illegal immigrants to receive any government benefits that aren't already available to them.
"To all of my fellow New Yorkers who are undocumented, I say: New York City is your home too, and we will not force ANY of our residents to live their lives in the shadows," de Blasio said.
"We will protect the almost half-million undocumented New Yorkers, whose voices too often go unheard," he added.
De Blasio is expected to introduce legislation detailing the initiative in the coming weeks.
As noted by the New York Post, multiple cities in the United States have implemented similar programs, some of which are already boasting of the benefits. In Fair Haven, Connecticut, crime rates are reportedly down 20 percent in the two years since IDs were granted, partly because immigrants were more comfortable reporting problems to the police when they had proper identification.
"For a diverse city like New York, the benefits will be immense," Steven Choi, executive director of the New York Immigration Coalition, told the Post. "Such an ID expands opportunities for greater civic and economic integration for all New Yorkers."
During his campaign to succeed former mayor Michael Bloomberg, de Blasio campaigned heavily on the promise to shrink the city's gap between the poor and the wealthy. Back in May 2013, he penned an op-ed in the New York Daily News explaining his support for municipal IDs.
"Nationally, this country is finally waking up to the notion that integrating undocumented immigrants into our society and legalizing their status will make us more secure," he wrote. "The old argument that providing a photo ID will compromise national security is absurd — if anything, the various checks required to get a license and the ability to more easily identify people who currently lack a government-issued ID will increase our collective security."
At the federal level, meanwhile, attempts to push immigration reform through Congress have sputtered, even though President Barack Obama has won two elections in part by proclaiming his support for a comprehensive overhaul of the system. Just recently, Obama said he'd consider signing a bill without a special pathway to citizenship for undocumented immigrants if Republicans agreed to allow them to apply for citizenship through the normal process.
Despite the president's comments, Speaker of the House John Boehner (R-Ohio) recently cast doubt on the possibility of passing reform this year.
"There is widespread doubt about whether this administration can be trusted to enforce our laws," he said, according to USA Today, "and it's going to be difficult to move any immigration legislation until that changes."
You can share this story on social media: