Shocker: 80% of NYC graduates unable to read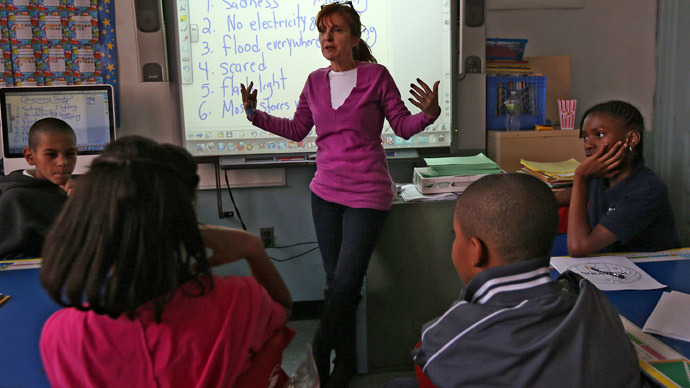 New York City's literacy rates are on the decline: nearly 80 percent of high school graduates lack basic skills like reading, writing and math and are required to relearn them before qualifying for community college.
During his most recent State of the City address, New York City Mayor Michael Bloomberg hyped about the large investment the city has made on education – a multi-billion dollar investment that seems to have done little to help the city's teens.
Critics pointed out that just 13 percent of black and Latino students graduate from New York City schools with the skills required for community college – and overall, 80 percent of all graduates lack these skills.
"He will be remembered as the Mayor of Education Failure, and his final speech ignored that reality. He has harmed our communities and families, and we cannot wait to see a new mayor replace him," parent Zakiyah Ansari of New Yorkers for Great Public Schools told the New York Daily News.
The number of students who lack crucial reading, writing and math skills is the highest it has been in years, CBS 2 reports. Officials from City University told the news station that 79.3 percent of graduates, or 10,700 students, who arrived to take a test to get into community college last year failed and were required to relearn basic skills that should have been taught in high school. This is a sharp increase from the 71.4 percent who were lacking the skills in 2007.
With such a high number of uneducated students, City University has launched a program to help struggling high school grads. Called the CUNY Start, the program provides cheap immersion classes that help New York teens catch up with those who are prepared for college.
"They get lost sometimes in the classroom and in CUNY Start we give them a lot more one-on-one attention, small group work," Sherry Mason, who teaches a writing class, told CBS. "It helps them achieve more in a short amount of time and so they're able to get on with their credit classes."
But students who are forced to shell out $1,000 or more for courses that bear no college credit are disappointed that their high schools failed to prepare them for college.
"The basics that I'm receiving now should have been taught in high school," Feona Wilson, a high school graduate from Brooklyn, told the New York Post. "It's more money coming out of your pocket."
Despite efforts by lawmakers to improve high school education, the US still lags in comparison to other developed countries. In 2012, the US placed 17thin the developed world for education, according to a report by Pearson. Finland and South Korea topped the lost of 40 countries. But when it comes to math, Americans are in the bottom half, with US students ranking 25thout of developing countries.
Experts have warned that American students' comparatively average to low performance could threaten the country's future economic growth. And with 80 percent of New York's high school graduates unprepared for community college, Bloomberg's large education investments appear to have been ineffectively used.
You can share this story on social media: