84-year-old pedestrian beaten bloody by NYC cops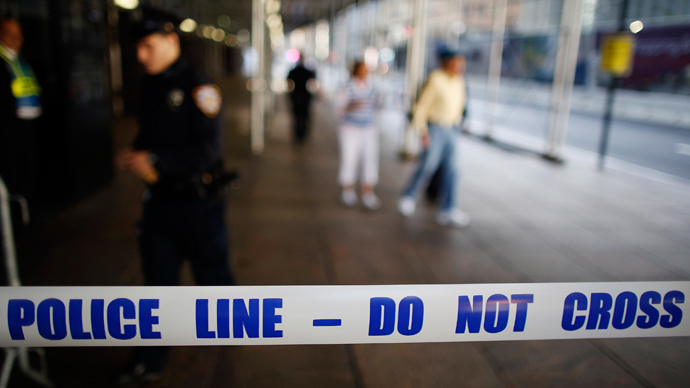 An elderly man was bloodied and hospitalized after police beat him for allegedly jaywalking across a New York City intersection, according to two local newspapers.
The incident occurred on Sunday, when 84-year-old Kang Chun Wong was reportedly stopped by an officer for illegally crossing a street in the city's the Upper West Side. As the New York Post reported, witnesses said Wong did not seem to understand English, leading to a brutal confrontation.
"[The officer] stood him up against the wall and was trying to write him a ticket," one witness, a 24-year-old Fordham University student named Ian King, told the Post. "The man didn't seem to understand, and he started walking away. The cop tried to pull him back, and that's when he began to struggle with the cop. As soon as he pushed the cop, it was like cops started running in from everywhere."
The altercation left Wong with cuts and blood smeared on the left side of his face. He was taken to a hospital for treatment, after which he was transferred to a police station house. According to the New York Daily News, Wong was charged with obstruction of government administration, disorderly conduct and resisting arrest.
As reported by local WNBC News, Wong was asked by police why he refused show his identification, but he responded in Spanish that he did.
Wong's sons, who declined to release their names, were outraged by the situation, with one telling the Post that the family will "probably press charges."
"Beating up an 84-year-old man for jaywalking?" one of them said. "It's just unbelievable."
The New York Police Department, meanwhile, has not commented on the situation, saying an internal review is underway.
The encounter came as police attempt to crack down on pedestrian traffic violations in the Upper West Side. Earlier that day, 26-year-old Samantha Lee died after being hit by a car on the same block, marking January's third pedestrian death in the area. As a result, police were handing out $250 traffic tickets to those jaywalking when the situation with Wong took place.
Already, New York City has seen seven pedestrians killed in automobile accidents in 2014, while 173 died last year. Mayor Bill De Blasio has pledged to lower those numbers by issuing more tickets to reckless drivers, lowering speed limits, and more.
Still, this isn't the first time that jaywalking has led police to engage in questionable action, Last year, a Florida man was tasered multiple times after refusing to show identification when police halted him for allegedly crossing the street illegally.
You can share this story on social media: