Man-cession: number of stay-at-home dads has doubled
Published time: 18 Jun, 2012 19:15
Edited time: 18 Jun, 2012 23:15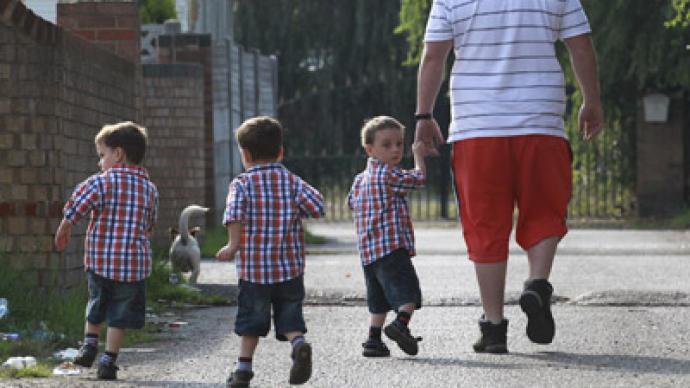 The proportion of fathers forgoing office jobs is on the decline, reveals a new study, which concludes that the percentage of stay-at-home dads is more than double what it was a decade ago.
According to a new research paper out of Boston College, 3.4 percent of America's dads take care of their children from home to serve in a role once almost exclusively reserved for mothers. In 2011, the United States had around 176,000 stay-at-home dads, the study suggests; in 2001, the statistic was only around 81,000, or around 1.6 percent.
"Stay-at-home dads are making a conscious choice and commitment to be home with their children to the benefit of their families, their wives' careers and their own personal fulfillment," the authors of "The New Dad: Right at Home," say of their report.

"Counter to the viewpoint that more men are becoming at-home dads because they were laid off during the recession, men report choosing the role of pragmatic reasons ranging from income and career considerations to satisfying family life goals,"  they add.
The paper's primary author, Brad Harrington, also serves as director of the Center for Work and Family. Along with the rest of his research team at Boston College, Harrington pulled from data collected during previous census reports and, additionally, conducted in-depth interviews with nearly three-dozen stay-at-home dads and the majority of their spouses.
"Contrary to media reports about laid-off fathers who re-invent themselves as full-time caregivers, most of the men we interviewed report that being a stay-at-home dad is a choice, not simply a reaction to an unanticipated job loss," Brad Harrington explains of his research in a written statement that accompanies the report.
"A small number of the men found themselves in more difficult financial situations and were actively job hunting, although they too were looking for work that would complement their roles as at-home dads. Some of the men had turned down offers because they demanded too much travel and time away from home," the report reads.
"The existence of at-home fathers greatly enables and facilitates the careers of their working wives or partners. The overwhelming response from wives was that having an at-home spouse has enabled these women to pursue their careers in a much more assertive fashion without the limitations that virtually all working mothers experience," the synapsis continues.
In the report, the researchers add, "With few exceptions, most of the men we interviewed wee content with their current roles as at-home dads, and were not actively job hunting."