#StopWatchingUs rally against mass surveillance: Live Updates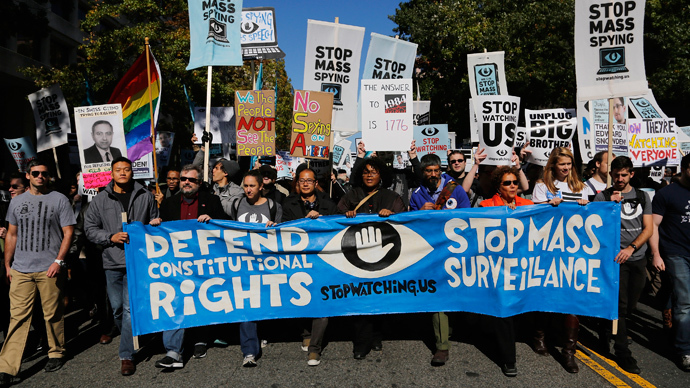 Thousands have marched on the National Mall in Washington, DC to protest covert NSA surveillance operations on the anniversary of the Patriot Act. The organizers have presented Congress with a petition which has acquired over 580,000 signatures.
Stop Watching Us is a collective of 100 public advocacy groups, among them the American Civil Liberties Union, Freedom Works, as well as individuals like Chinese artist/activist Ai Weiwei and Glenn Greenwald, the journalist who worked with Edward Snowden to expose many of the NSA's surveillance procedures. The rally began at 11:30 am local time on October 26 – the 12th anniversary of the US Patriot Act.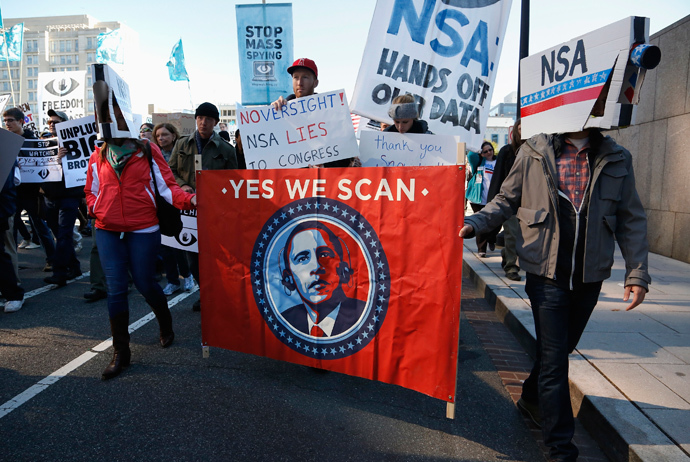 "First, we are asking for a congressional investigation so we can shed light on exactly what the National Security Agency is doing. Secondly, we ask for reform of federal surveillance law, specifically Section 215 of the Patriot Act, Section 702 of the Foreign Intelligence Surveillance Act, and the state secrets privilege," Rainey Reitman, EFF activism director and lead organizer for Saturday's rally told tech news outlet CNET on Friday.     
23:59 GMT: The organizers of the rally Stop Watching Us have released a YouTube video highlighting events of  Saturday's march.
23:20 GMT: Twelve years after Americans were stripped of their rights in the name of fighting terrorism, thousands have gathered in Washington DC to protest unconstitutional NSA spying programs revealed by Edward Snowden, and call for repeal of the Patriot Act. (FULL STORY)
22:51 GMT: As thousands of people hit the streets to challenge illegal surveillance by US intelligence agencies in Washington DC, the US federal government for the first time in legal history officially announced it was going to use evidence collected without a warrant in a criminal case against a suspected terrorist. 
22:45 GMT: Video of Edward Snowden's statement being read by former US Department of Justice ethics adviser, Jesselyn Radack.
22:36 GMT: The rally in Washington DC did not achieve its ultimate goal, Wide Awake News founder Charlie McGrath told RT. He believes in order to have their voices heard by the government, the protesters should unite the majority of the US population under their banner.

"We need a 100 million, 200 million, 300 hundred million people to wake up and realize that we have turned into a Stasi-style police state," McGrath said.

"Congress seems to be interested in nothing more than collecting the revenue that they need in order to maintain their positions of power by the same military and security-industrial complex that is watching the people of this country and the world illegally."

22:02 GMT: 
"I am not your subject" anti-spying sign in the shadows of the US Capitol Building earlier at #stopwatchingus rally. pic.twitter.com/CiVpMdTemU

— Andrew Boo-lake (@apblake) October 26, 2013
21:37 GMT: Ahead of the mass rally, the US Department of Defense published a YouTube interview with NSA Director and CYCOM Commander General Keith Alexander trying to justify the agency's programs. So far less than 2 percent of viewers agree with Alexander's reasoning.
Question: What does it mean to be the director of the #NSA? Answer: One green pixel ;-) pic.twitter.com/QWQnvNEjm9

— Kim Dotcom (@KimDotcom) October 26, 2013
21:10 GMT: Here is Edward Snowden's full statement read out in front of the crowd at Washington DC:
In the last four months, we've learned a lot about our government. We've learned that the US Intelligence Community secretly built a system of pervasive surveillance.
Today, no telephone in America makes a call without leaving a record with the NSA. Today, no Internet transaction enters or leaves America without passing through the NSA's hands. Our representatives in Congress tell us this is not surveillance. They're wrong.
We've also learned this isn't about red or blue party lines. Neither is it about terrorism.
It is about power, control, and trust in government; about whether you have a voice in our democracy or decisions are made for you rather than with you. We're here to remind our government officials that they are public servants, not private investigators.
This is about the unconstitutional, unethical, and immoral actions of the modern-day surveillance state and how we all must work together to remind government to stop them. It's about our right to know, to associate freely, and to live in an open society.
We are witnessing an American moment in which ordinary people from high schools to high office stand up to oppose a dangerous trend in government.
We are told that what is unconstitutional is not illegal, but we will not be fooled. We have not forgotten that the Fourth Amendment in our Bill of Rights prohibits government not only from searching our personal effects without a warrant but from seizing them in the first place.
Holding to this principle, we declare that mass surveillance has no place in this country.
It is time for reform. Elections are coming and we're watching you.
21:03 GMT: A banner reading "Thank You Snowden" united thousands of protesters at the Capitol in Washington DC.
#ThankYouSnowden campaign banner at #StopWatchingUs rally against #NSA spying - More: http://t.co/CeZ7Xy8aE4 - Photo: pic.twitter.com/l57xvaklgN

— PCJF JusticeOnline (@ThePCJF) October 26, 2013
Photo: @CarlPCJF holding huge #ThankYouSnowden banner at today's #StopWatchingUs rally against #NSA spying pic.twitter.com/aeFqaCb5Go

— PCJF JusticeOnline (@ThePCJF) October 26, 2013
20:42 GMT: Protesters in Chicago have gathered in the Federal Plaza to make it loud and clear that the US Government works for American people, not the other way around, and that they "exist to protect our rights, not violate them."
RT @FruzsE: #StopWatchingUs in Chicago, roaming protest: pic.twitter.com/PjBHKx3hB7

— Robert Loerzel (@robertloerzel) October 26, 2013
20:29 GMT: Megaupload founder and online activist Kim Dotcom is supporting the Stop Watching Us movement for privacy and internet freedom, and reminds US citizens how back in 2007 US President Barack Obama promised to protect them from illegal and unconstitutional wiretapping.
#StopWatchingUs Remember @BarackObama in 2007. He promised to protect you from mass surveillance. http://t.co/vtKTdNLxkB

— Kim Dotcom (@KimDotcom) October 26, 2013
20:12 GMT:  Writer and a privacy advocate from San Francisco Rainey Reitman and attorney Kurt Opsahl stand next to hundreds of thousands of petitions signed to protect privacy rights.
Rockstars @kurtopsahl@RaineyReitman of @eff standing in front of half a million signatures. #stopwatchingus. pic.twitter.com/h5ObRf2tCS

— Logan Price (@kstrel) October 26, 2013
20:01 GMT: Activist inspires Stop Watching Us protesters with the opening theme for James Bond movies.
19:45 GMT: Twelve large boxes of the 575,000 petition signatures have been presented to the crowd at the foot of the US Capitol. The number of signatories now stands at over 580,000.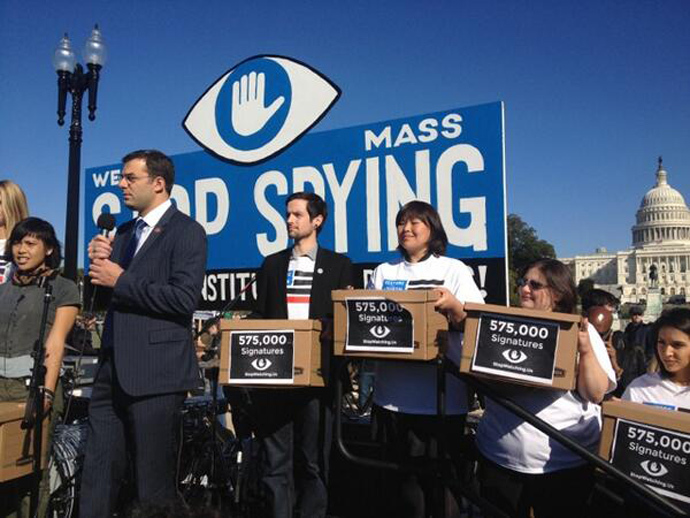 19:40 GMT: NGO Code Pink: Women for Peace have a colorful delegation at the march.


#NSA, stop spying on us! @codepink --> #StopWatchingUs rally in #DC. pic.twitter.com/qdwgKDF8DU

— Doc Rocket (@DocR0cket) October 26, 2013

19:16 GMT:"It is very important that people speak out, take action, march, rally demonstrate against these practices of the government," anti-war activist Richard Becker told RT. "What can really bring a change is the actions of the people," he said, stressing that "none of the progressive changes" in the history of the US have ever been "originated inside the Congress or in the White House".
19:05 GMT: Congressional representative Justin Amash told the crowd that bringing his anti-NSA bill to Congress was his proudest moment as an elected official.

18:48 GMT:"Our own government has become a threat to freedom, at home and abroad," said former Congressman, Dennis Kucinich. 
Dennis Kucinich demanding an end to the Patriot Act and NSA at #stopwatchinguspic.twitter.com/RFEqSH2QPy

— Andrew Boo-lake (@apblake) October 26, 2013
18:05 GMT: Former US Department of Justice ethics adviser, Jesselyn Radack, has read a statement from Edward Snowden. "This isn't about red or blue or party lines, and it definitely isn't about terrorism...it's about power, control, and trust in government,"  it said. "It's about being able to live in a free and open American society," the statement continued. "Elections are coming and we are watching you." Snowden went on to remind the crowd that no phone call in the USA is made without the NSA keeping a record of it. "They're public servants not private investigators," he added.

17:59 GMT: Whistleblower Thomas Drake is addressing the crowd. "I am fortunate that I did not end up in actual prison," he said. "The last thing a free and open society needs is a digital fence around us." He called for the restoration of the Fourth Amendment and said that NSA surveillance "engenders fear and erodes our freedom."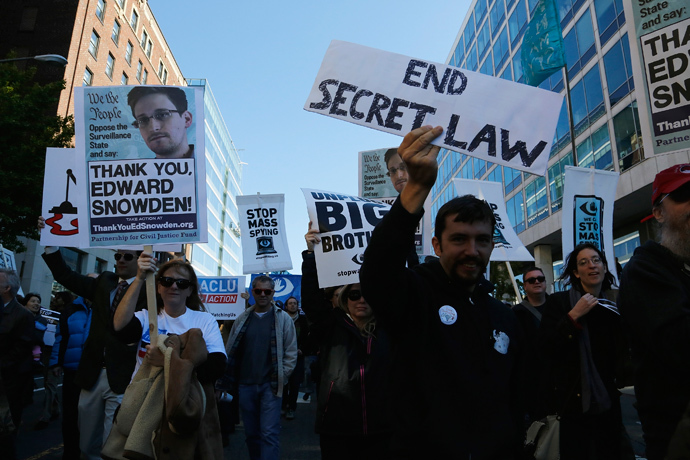 17:50 GMT: One speaker addressed the crowd reciting the poem "First they came…" generally attributed to pastor Martin Niemöller.

17:15 GMT: Crowds in Cologne, western Germany, have gathered outside the city's iconic cathedral. The banner asks: "Should we all become a 'Merkel' before our rights are taken seriously?" Allusions to the Stasi ‒ the old East-German secret police ‒ can be seen in the crowd; government surveillance remains a sensitive issue.

"@stopwatchingus: Photos from German #stopwatchingus protest pic.twitter.com/3ADcG7ShPT RT @ertelt" :-)

— Juergen Ertelt (@ertelt) October 26, 2013


17:09 GMT: The march has arrived at its point of destination, gathering at the foot of the US Capitol. A variety of speakers are expected to give speeches to the crowd berating NSA spying and government monitoring of communications.

16:56 GMT:


Anti-spy rally in DC. Can ya spot all 5 surveillance cams here? (there's more you can't see too) #stopwatchinguspic.twitter.com/rfleHPEUCz

— Andrew Boo-lake (@apblake) October 26, 2013

16:51 GMT: Crowds are chanting: "This is what democracy looks like."

Stop Mass Spying rally in DC pic.twitter.com/yVYrD1TjTo

— Gayane Chichakyan (@Gayane_RT) October 26, 2013
16:45 GMT: According to independent journalist, Rania Khalek, who is present at the march, it is currently "about a block long," with other eyewitnesses estimating it to be even longer. The crowds are now chanting: "They say wiretap; we say fight back!"

16:30 GMT: The march is now moving, to the sound of heavy drums. 

The Bill of Rights just walked by. #stopwatchingushttps://t.co/Ys6c4bVpuR

— Andrew Boo-lake (@apblake) October 26, 2013
16:25 GMT: RT's Andrew Blake, who is present at the march, has identified an effigy of a drone in the crowd, alongside a man in an Obama mask wielding a model surveillance camera.


Pres. Obama brought his spy cam and surveillance drone to the #stopwatchingus rally! Hoorah! pic.twitter.com/D2OcB9NFni

— Andrew Boo-lake (@apblake) October 26, 2013

16:21 GMT: Further chants of: "Hey hey, ho ho, mass surveillance has got to go!" can be heard.

16:12 GMT: The crowd is chanting: "We are the people. Defend the Bill of Rights!"

16:06 GMT: Speakers are beginning to address the crowd, who come from "across the political spectrum," demanding that Congress "investigate the full extent of the NSA spying program."

Among cities involved in sympathetic protests are Louisville, Kentucky, Austin, Texas, Birmingham, Alabama, and eight different cities in Germany, according to rally leaders. 
Crowd starting to gather, as thousands come together to tell the NSA to #StopWatchingUspic.twitter.com/SSOES5pxtl

— Free Press (@freepress) October 26, 2013
David Segal stepped up to denounce NSA online intrusions, commenting that people's communications "define our lives and even our very humanity...as we express our hopes and fears....they are watching us. They are running algorithms that study all of us…"

He went on to add that communications are 'open for their taking' to loud boos from the crowd.

"There would be no place to hide if this government ever became a tyranny….there would be no way to fight back," he said.

15:42 GMT: According to witness estimates, almost a thousand have already arrived in Washington DC.

There a must be a thousand people here already, and the buses haven't even arrived yet! #StopWatchingUspic.twitter.com/t0SqdbNdbx

— Sina Khanifar (@sinak) October 26, 2013
15:41 GMT: Some 120 people attended a simultaneous rally taking place in Munich on Saturday, according to an official police statement.

On Wednesday a German government spokesman said that Berlin had information the NSA could have been spying on German Chancellor Angela Merkel, prompting Germany to announce that next week it would be sending senior intelligence chiefs to Washington

15:30 GMT: Participants of the US protests are wielding builboards bearing the "Stop Watching Us" slogan, alongside further statements demanding the cessation of mass NSA spying. Others have pictures of Snowden's face and messages of thanks. One group in attendance has brought along a giant parachute bearing the logo of the collective.

This parachute winning Most Parachute #stopwatchinguspic.twitter.com/u2C2VmjbXt

— Ingrid BOO-ington (@lifewinning) October 26, 2013
15:20 GMT: Crowds are beginning to gather in Washington DC.

Crowd assembling quickly at #StopWatchingUs rally, Union Station, Washington DC #NSApic.twitter.com/jEo73AF6LV

— Shane Worth (@tatzanx) October 26, 2013


15:15 GMT: Stop Watching Us have produced an official video giving a platform to the voices of a variety of celebrities, politicians and activists who oppose NSA spying. 
You can share this story on social media: