Obama picks official who approved of dragnet NSA surveillance to head FBI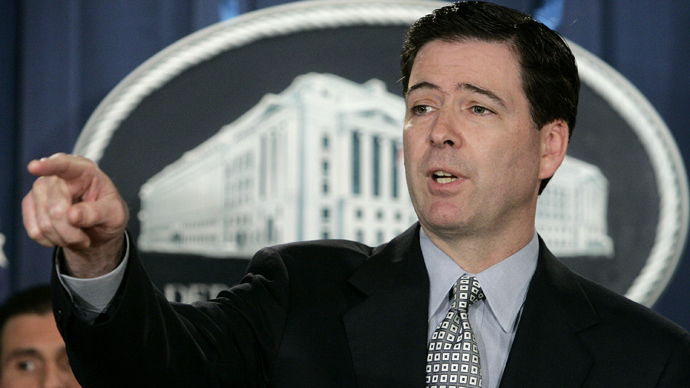 President Barack Obama announced Friday afternoon that he's selected James Comey to head the Federal Bureau of Investigation.
Comey, 52, worked as the deputy attorney general for the United States under President George W. Bush and will replace outgoing FBI Director Robert Mueller when he steps down later this year after he is confirmed by the Senate.
All three men were on hand at the White House Friday afternoon when President Obama formally made his pick after weeks of speculation suggested Comey would be the likely nominee.
Comey, said Obama, embodies the "core principals of fidelity, bravery and integrity" expected of FBI agents and applauded "his fierce independence and his deep integrity."
In fact, that independence is the focus of perhaps the most widely reported instance from the Bush White House involving Comey. While serving as deputy attorney general in the Department of Justice, Comey rejected the administration's warrantless wiretapping program that has recently reemerged as the center of controversy.
"In a confrontation he has called the most difficult night of his career, [Comey] rushed to the hospital bedside of his boss, John Ashcroft, in 2004 to stop two senior Bush White House aides from getting the ailing attorney general's approval to reauthorize a post-9/11 program that allowed government wiretaps to be used without warrants," the Associated Press recalled this week.
Comey's insistence in keeping the program off the books was made notwithstanding an earlier decision to favor the surveillance program, though. Glenn Greenwald reported for The Guardian last month that Comey "approved a legal memorandum in 2004 endorsing radical executive power theories and warped statutory interpretations, concluding that the Bush NSA warrantless eavesdropping program was legal, thus making it more difficult to prosecute the Bush officials who ordered it."
The internal conflict within the administration that erupted years later over that program almost led to Comey, Ashcroft and Mueller offering their resignation, apparently. As Greenwald noted, though, the then-deputy attorney general declined to follow up on his threat after slight adjustments were made to the NSA spy program.
"But the reason they didn't end up resigning ," he wrote, "was because Bush officials 'modified' that NSA program into something those lawyers could and did endorse: the still-illegal, still-radical NSA eavesdropping program that spied on the communications of Americans without warrants and in violation of the law."
Those practices have come under question in recent weeks after Edward Snowden, a 29-year-old former intelligence contractor, leaked documents showing the size and scope of the surveillance programs. Mr. Mueller said those disclosures caused "significant harm'' to the nation's security and that the admitted leaker is the "subject of an ongoing criminal investigation.''
"One of the great vulnerabilities terrorists understand is their communications,'' Mueller told the House Judiciary Committee last week. "If we lose our ability get their communications, we are going to be exceptionally vulnerable.''
After being picked by Pres. Obama to replace Mueller on Friday, Comey said, "I don't know whether I can fill those shoes." Mueller was FBI chief for 12 years, making him the second-longest serving official to ever head the bureau.
You can share this story on social media: