NSA embarrassment: spy agency censors their own talking points in FOIA response
Published time: 30 Nov, 2012 20:42
Edited time: 1 Dec, 2012 00:42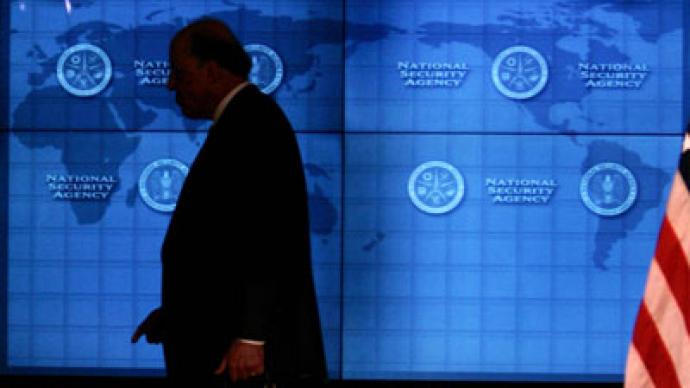 The US National Security Agency has responded to a Freedom of Information Act request for recent talking points from the spy agency's public affairs office, but unsurprisingly even those memos meant for the media have been heavily redacted.
Secrecy is something that's been practically synonymous with the NSA since the early days of the agency, but even unclassified statements intended to be made to the media have been censored in a FOIA response recently sent to Muckrock.com. The website had requested any documents produced by the NSA's Public Affairs Office from 2009 through 2010, and this week they published the meager collection of memos — albeit highly abridged.
The agency's PAO responded to Muckrock's request with 15 pages of significantly suppressed talking points from two years' of the NSA's operation, and by and large the only take away is that even memos made to address the media's concerns are kept from being revealed.
One of the pages included in the NSA's response is redacted in almost its entirety, except for a single legible line halfway through the document: "These are sobering findings." Other pages are left completely censored.
"The National Security Agency operates with more secrecy and freedom than perhaps any other U.S. government entity. As 15 pages of recently released talking points show, even its own statements defending its activities are sometimes considered too sensitive for the public to see," MuckRock's Tom Nash writes.
The few legible excerpts from the FOIA response supplied to MuckRock reveal little about the NSA's policies, with very minor exceptions. One included memo lists talking points for the agency's chief technology officer (CTO), who is according to the documents tasked with helping the NSA "dominate global cryptology" and "secure national security systems."
The most unredacted form included by the NSA is a list of talking points for intelligence committee members to use when discussing to the media the controversial Terrorist Surveillance Program begun under George W. Bush in the wake of the September 11 terrorist attacks.
"The terrorist threat to this country is real," NSA agents were told to say of the surveillance program. "We need to do everything possible to make our nation safe, and we need to do it in a way that preserves our civil liberties."
"I have been briefed on the Program and stood on the operations floors at NSA to see first-hand how vital it is to the security of our country and how carefully it is being run," reads one bullet point.
"It is being run in a highly disciplined way that takes great paints to protect US privacy rights. There is strict oversight in place, both at NSA and outside, now including the full congressional intelligence committees."
"The Program is not 'data mining'; it targets only international communications closely connected to al-Qaeda of an affiliated group." These talking points had been previously declassified and made public, Techdirt reports.
William Binney, a former cryptologist with the NSA, has recently gone public with allegations that his old employers have been collecting domestic intelligence on American's, despite their claims to the contrary. Speaking at MIT earlier this month, Binney said that the US acted on 9/11 to have an excuse to finally roll-out an intelligence collecting operation that was in need of a catalyst.
"That was a false premise: we could identify these people from the beginning," he said. "But it was a great pretext. They used a program we had setup to do foreign intelligence, and turned it around."
Speaking to the Guardian this year, Binney said the NSA was continuing domestic surveillance under US Pres. Barack Obama just as his predecessor, George W. Bush, done under his own administration.
"They are still continuing the same programs – actually, Obama is doing more in some areas," he said.
Writing for TechDirt this week on the FOIA response's heavy redactions, Mike Masnick says, "It seems that, by definition, the info included in the talking points should be public. The only reason to redact is embarrassment. The snippets you can read are sort of random boosterism about how awesome the NSA is… if only they could tell us."