White House will keep NSA and Cyber Command leadership under single general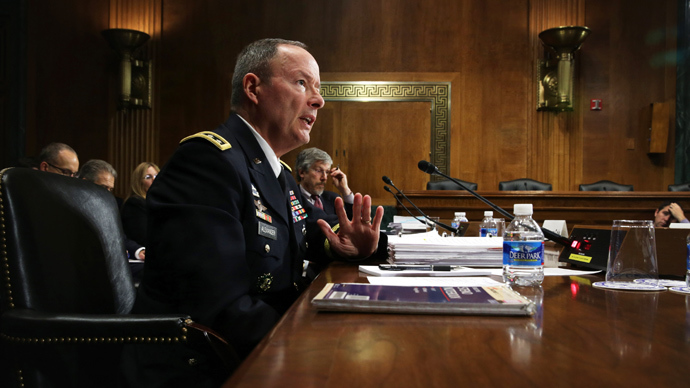 Notwithstanding concerns regarding abuse of power, inefficient oversight and gross mismanagement inside the United States National Security Agency, the White House said Friday that the next head of the NSA will also man the helm of the US Cyber Command.
Currently the top roles within both groups are performed by Gen. Keith Alexander, a four-star general appointed by then-President George W. Bush to run the NSA in 2005 and then picked to lead the newly-created Cybercom by President Barack Obama four years later. Alexander is slated to retire in March 2014, however, and the administration has been weighing the option of installing two separate officials to assume those roles in the spring.
The Washington Post first confirmed early Friday that the White House will no-longer be pursuing that two-person option, and will instead continue the tradition started by Alexander and appoint another four-star general to sit atop both departments.
"Following a thorough interagency review, the administration has decided that keeping the positions of NSA Director and Cyber Command Commander together as one, dual-hatted position is the most effective approach to accomplishing both agencies' missions," White House spokeswoman Caitlin Hayden told the Post.
"NSA plays a unique role in supporting Cyber Command's mission, providing critical support for target access and development, including linguists, analysts, cryptanalytic capabilities and sophisticated technological infrastructure," she said. "Without the dual-hat arrangement, elaborate procedures would have to be put in place to ensure that effective coordination continued and avoid creating duplicative capabilities in each organization."
The White House's decision isn't one necessarily shared among other Washington officials, though, especially given the drama that has unfolded in the six months since former intelligence contractor Edward Snowden began leaking sensitive, top-secret NSA documents, the likes of which have embarrassed the US government and even prompted Alexander to reportedly consider an early retirement.
Gen. Alexander attempted to step-down from atop both the NSA and Cybercom shortly after Snowden revealed himself as the source of those leaks, the Wall Street Journal reported last month, but the White House refused to let him leave.
"It's a mistake," an anonymous US official said to the Post this week upon hearing that the roles will not be split. "Cyber Command and NSA each needs its own full-time head, and [Obama] could have continued the coordination and close working relationship between the two organizations without them being led by the same individual."
Indeed, just last week Pres. Obama told interviewers at MSNBC that he was working on reform within the NSA meant to ease concerns raised during the last several months as it became increasingly clear that the intelligence agency has collected data on American citizens.
"I'll be proposing some self-restraint on the NSA and to initiate some reforms that can give people more confidence," Obama said Dec. 5.
On his part, however, Alexander acknowledged that he thinks the job roles should be shared after his retirement in the spring.
"Our nation can't afford, especially in this budget environment, to have one team try to rebuild what the other team does," Alexander said at an October event hosted by Politico. That same month, he told the Washington Post that "You create more problems by trying to separate them and have two people fighting over who's in charge than putting it all together."
But during a Senate hearing in Washington on Wednesday, members of the Judiciary Committee questioned the effectiveness of the NSA under Alexander, which Snowden's leaks and subsequent investigations have led many to wage complaints about alleged civil liberties and privacy violations committed on his watch.
"We give up a lot of our privacy in this country, and frankly I worry about giving up too much," Committee Chairman Sen. Patrick Leahy (D-Vermont) said during the hearing. "Can we be totally secure? Of course we cannot. "
The Washington Post noted that the US Cybercom is required to be run by a military official, so the person appointed to fill Alexander's shoes will again come from an armed forces background.
You can share this story on social media: