NSA bulk collection ensnares under 30 percent of phone records daily - report
Published time: 8 Feb, 2014 02:01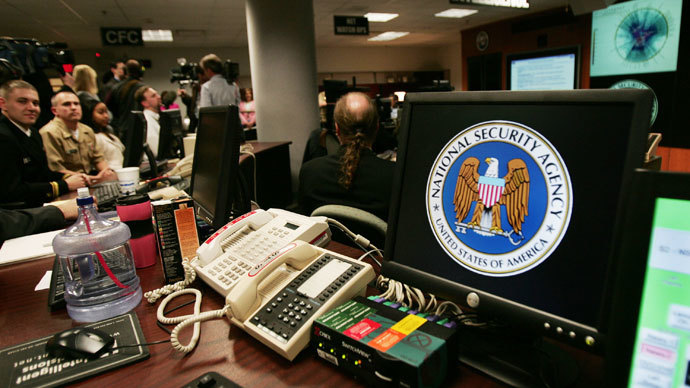 The recently-unveiled US National Security Agency program that collects telephone records belonging to millions of Americans tracks only a small number of calls made each day, under 30-percent, officials with knowledge of the policy told reporters Friday.
The NSA has spent years collecting metadata – which includes the numbers dialed, number of calls received, time of call, duration of the call, and other information – from landline phones. Yet the agency has struggled to maintain pace with the explosion in cell phone usage, officials said.
One source told the Washington Post that in 2006 the NSA was collecting information on "closer to 100" percent of the calls made in the US, but by the summer of 2013 that number has decreased to less than 30 percent. The Wall Street Journal reported that the number is closer to "20 percent or less."
The senior officials maintained that the NSA is working to restore its previous levels of data collection. They also said the agency will soon seek court orders to force phone companies that have managed to avoid the NSA's gaze to begin providing information on its customers.
Yet Friday's disclosures have revived the debate over whether the massive collection program is at all effective to begin with. Among the critics is the review board appointed by President Obama to determine what, if any, reforms needed to be made to the current surveillance apparatus.
"We recommend that legislation should be enacted that terminates the storage of bulk telephony meta-data by the government under section 215 [of the US Patriot Act], and transitions as soon as reasonably possible to a system in which such meta-data is held instead either by private providers or by a private third party," the review board advised in December.
In a speech last month Obama, while saying the government should keep the collection program alive, noted that he will seek to find a third party to store the data, without giving any further details.
"If you're looking for the needle in the haystack, you have to have the entire haystack to look through," Deputy Attorney General James Cole testified to Congress in July.
Civil liberties advocates, though, say that since the NSA is collecting a small amount of data anyway, the entire program should be shelved.
"We should have a debate about how effective would it be if it were fully implemented," one official told the New York Times.
Christopher Soghoian, chief technologist for the American Civil Liberties Union, remained unconvinced.
"For innocent Americans, 20 or 30 percent is still a significant number, and will chill legitimate lawful activities," he said.
Part of the reason the NSA may be struggled to keep up with mobile phone technology is in part because the agency does not currently have the infrastructure to store such a vast amount of information. Cell phone metadata also includes data the NSA currently has court permission to collect with this method, such as an individual's geolocation data.
"It is not simply the ability to go to the court and order some vendor to give you more records, but you have to make sure that the [agency's collection system] is prepared and ready to take the data and meet all the requirements of the court," one former NSA official told the Washington Post. "You don't want to turn it on and get hundreds of millions of records, only to find out that you've got the moral equivalent of raw sewage spilling into the Chesapeake Bay."