North Carolina governor approves new voter ID law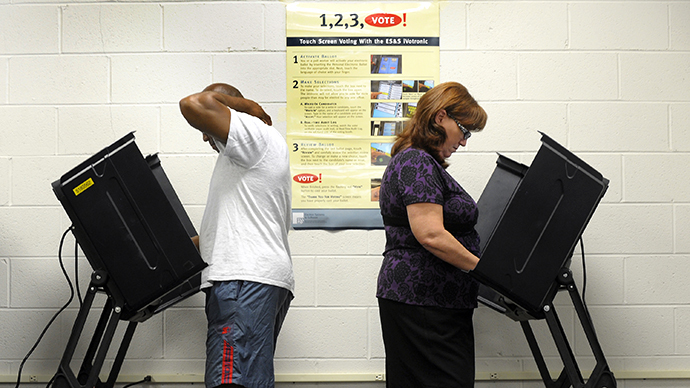 The state of North Carolina has signed a new election measure into law which requires government-issued photo IDs at polls, as well as the shortening of early voting periods. The move has already been criticized by the NAACP and the ACLU.
Republican Governor Pat McCrory signed the new measures on Monday, without a ceremony and without the presence of journalists – despite the fact that such state legislature signings often include both.

According to supporters of the new law, the legislation is designed to combat voter fraud, which North Carolina's Republican lawmakers say is a rampant issue across the state.

The measures were proposed immediately following a 5-4 US Supreme Court decision in June which ended the enforcement of the landmark Voting Rights Act of 1965 – a piece of legislation which had been enacted to outlaw racial discrimination against voters.

The Voting Rights Act was aimed at states mostly in the south - including North Carolina - which had traditionally been the scene of widespread voter suppression of black and minority voters prior to the civil rights movement.

Special enforcement under the federal Voting Rights Act meant that states like North Carolina previously had to receive advance approval before signing any changes to voting laws.

Governor McCrory appeared in a 95-second message on YouTube on Monday which focused on the state's new voter identification rules.

The first-term governor cited laws that require people to present photo IDs to board airplanes, cash a check, or apply for government benefits. "Our right to vote deserves similar protection," McCrory said in the video.

The ACLU and two other groups have already announced that they will be filing suit against portions of the state's new voting reforms.

"It is a trampling on the blood, sweat and tears of the martyrs — black and white — who fought for voting rights in this country," said the Rev. William Barber, president of North Carolina's chapter of the NAACP, which is also pressing its own legal challenge according to AP. "It puts McCrory on the wrong side of history."

Barber called the Republican-backed measure one of the worst attempts in the nation at voting reform. He told AP that the NAACP considered the state's package an attack on existing laws that had come to be seen as a model for voter participation.

Though supporters of the bill's provisions have pointed to widespread voter fraud, few documented cases have been prosecuted within the last decade.

According to the Verified Voting Foundation, some seven million ballots were cast in North Carolina in 2012. The state Board of Elections said that 121 cases of alleged voter fraud were forwarded on, accounting for 0.00174 percent of total ballots.

In 2010, a year which did not include a presidential election, 3.79 million ballots were cast in North Carolina, with 28 cases of alleged voter fraud turned over to the appropriate district attorney's office.

Despite a lack of data pointing to such widespread voter irregularities, the state's new voting reforms are set to take effect in 2016.

Along with the new requirement for voters to present photo IDs at the polls, early voting would be shortened by a week and the state would end same-day voter registration - requiring eligible voters to register and make any necessary changes at least 25 days prior to voting.

The new measures will also eliminate a high school civics program that currently registers tens of thousands of students to vote each year ahead of their 18th birthdays, AP reported.

Beyond changes at the voting booth, North Carolina is also set to scrap limits on corporate donations to political parties and increase the cap on individual campaign donations from $4,000 to $5,000.