North Carolina Republicans sneak abortion restrictions through in motorcycle safety bill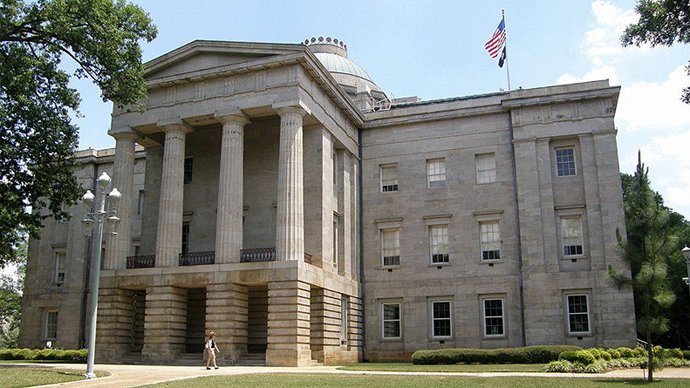 North Carolina has voted to enact a spate of new standards on women's health clinics that provide abortions - attached to a motorcycle safety bill. The new restrictions could well lead to the closure of all but one of the state's abortion providers.
Republican lawmakers say they believe that the new legislation will make abortion safer for women, by directing state regulators to enact standards for abortion clinics that will bring them in line with outpatient surgical centers, reports the AP.

Among the new regulations included in the bill, known as HB 695, are requirements for doctors to be present during the entire surgical abortion procedure, as well as when a patient is administered the first dose of a chemically induced abortion.

The legislation also prohibits government-provided insurance plans to pay for abortions, and grants North Carolina's health department to enact temporary new rules over the state's 31 women's health clinics that provide abortion services at will.

Republican governor Pat McCrory, who had campaigned under a pledge not to restrict access to abortion, threatened to veto the first draft of the bill, which was modified to include a stipulation that rules over abortion providers should not "unduly" restrict access. Though the governor could still veto the bill, McCrory noted that major portions of the first draft were "of sound principle and value."

The first draft of the new abortion laws was introduced when a bill meant to combat "Sharia law," HB 695, was transformed into an anti-abortion omnibus bill. After McCrory announced on Wednesday that HB 695 would require significant changes, the legislation was then reintroduced as a part of SB 353, a motorcycle safety act.

Some committee members only became aware that the motorcycle safety act had been altered to include the new abortion legislation after a hearing began on Wednesday morning.

"New abortion bill being heard in the committee I am on," tweeted state Representative Joe Sam Queen. "The public didn't know. I didn't even know," he added.

The governor's legislative director informed the state committee on Wednesday that he was "fine with the changes being made" to the motorcycle safety bill, reports The Carolina Mercury.

Only one of North Carolina's 16 clinics currently providing abortions is a licensed ambulatory surgical center, meaning that the remainder are almost certain not to comply with new state regulations due to the cost of upgrading their facilities.

Similar legislation in states such as South Carolina and Virginia has led to clinic closures, according to women's health advocacy groups who spoke with the AP.

The legislative process for North Carolina's new abortion legislation is similar to that passed by 17 states which have implemented 43 new abortion restrictions so far in 2013, according to RH Reality Check.

North Carolina's House voted 74-41 to approve the new rules as part of the motorcycle safety act following what was described by the AP as a "highly charged" three-hour debate.

The bill will now head to the state Senate for consideration. Support among conservative lawmakers in both the House and Senate indicates that the new legislation would override the governor's veto.

You can share this story on social media: