US Senator calls for 'no-ride' list for US trains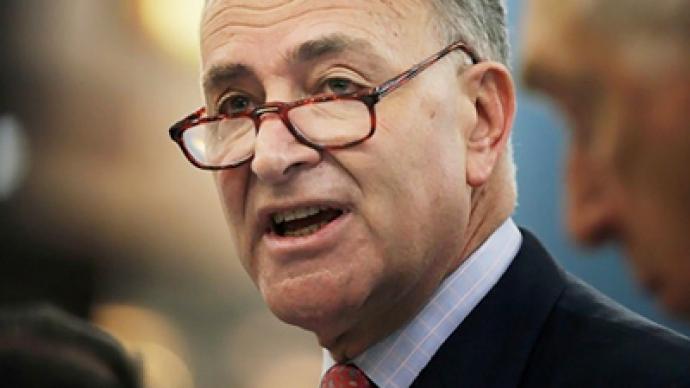 Democratic Senator Charles Schumer called for a 'no-ride' list similar to America's no-fly list to aid in preventing terrorist attacks on Amtrak trains.
It was recently learned via materials obtained at the Osama Bin Laden compound that al-Qaeda had considered attacking US railways and trains following 9/11. "Circumstances demand we make adjustments by increasing funding to enhance rail safety and monitoring on commuter rail transit and screening who gets on Amtrak passenger trains, so that we can provide a greater level of security to the public," Schumer told reporters.Schumer equated the need for security on trains to that of airplanes. His plan would require that the names of all Amtrak passengers be checked against a list of suspected terrorists and notify law enforcement if names match."By alerting law enforcement about passengers on a 'no-fly' list we've been able to catch and deter terrorists, preventing them from boarding plains or launching further attacks," Schumer said. "We can do exactly the same for Amtrak at virtually no extra cost." The US train system is utilized far less for travel in the United States than cars or air planes. Many fear it could however be an easy target for terrorists because there is less of a universal approach to rail security in America. However, many are wearily of applying already controversial US air transportation security style rules to rail transportation. Amtrak ridership is already low and further inconveniences could mean trouble for the suffering US rail transit business. In addition, the US no-fly list is highly controversial, with many names on the list shared by those with no terrorism ties. This makes travel for some nearly impossible, even some children who happen to share a name on the list. Many fear a no-ride list for trains would only complicate American transportation further. In October 2002, the Electronic Privacy Information Center filed a Freedom of Information Act request to obtain information about the no-fly list compiled by the Transportation Security Administration and Department of Homeland Security. TSA failed to respond and the Electronic Privacy Information Center filed a law suit.Following the suite it was learned that the list has been used by the government to block political activists from traveling, an additional critique of the list. Later law suits brought by political activists forced the TSA and FBI to pay hundreds of thousands of dollars in compensation to anti-war activists who were targeted by the list. In addition to using the lists for political ploys, some argue the lists are outright illegal and are used to form a police state."What the 'watch list' or 'no-fly list' is doing is training Americans to submit to warrantless searches, to abandon their constitutional rights, and to submit to humiliation by thugs and bullies," former Reagan administration official Paul Craig Roberts wrote. "A Gestapo is being trained to have no qualms about searching and intimidating fellow citizens, using any excuse to delay or arrest them. Americans are being taught to use arbitrary power and to submit to arbitrary power."Many see the lists as just the beginning. From air travel, to trains and beyond, further security may be coming to other modes of US transportation."I think the tighter we get on aviation, we have to also be thinking now about going on to mass transit or to trains or maritime," said Department of Homeland Security Secretary Janet Napolitano.
You can share this story on social media: