Ghost city: Post-apocalyptic stillness as New York braces for storm (PHOTOS)
Published time: 29 Oct, 2012 11:24
Edited time: 31 Oct, 2012 14:08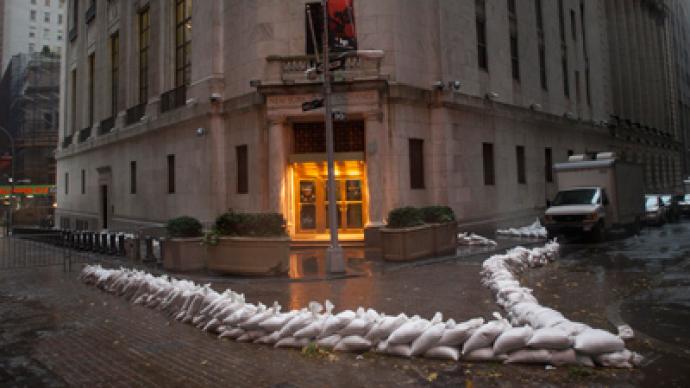 The imminent arrival of Hurricane Sandy saw many parts of New York turned into a ghost town. Authorities ordered the closing of most public transit lines and major highways, and are helping residents to evacuate the city.
­In what looks like a scene from a post-apocalyptic Hollywood movie, the Times Square metro station is completely deserted.
Times Square (Metropolitan Transportation Authority / Aaron Donovan)
­New York's iconic Grand Central Station – often used in blockbuster movies – could also have been easily mistaken for a stage
Grand Central Terminal (Metropolitan Transportation Authority / Aaron Donovan)
­Over 375,000 people have fled the low-lying areas of the city, and around 70 emergency shelters were established to help evacuees.
­Those who may not be directly affected by Sandy still erred on the side of caution. Residents along the East Coast rushed to stores to snap up emergency supplies, leaving many shelves completely bare.
­Within hours of a state of emergency being officially announced, many gas stations were reportedly running out of fuel.
­The scenes unfolding in and around New York and other cities along the East Coast may look like something from a disaster movie, but an official advisory statement by the National Weather Service topped the list for hyperbole.
The warning reminded residents to take the advisory seriously, and spoke directly to any who might think otherwise:
"If you are reluctant to evacuate, and you know someone who rode out the 1962 storm on the barrier islands, ask them if they could do it again," the statement read, referring to the Great Atlantic Storm of 1962 which killed 40 people and injured over 1,000 others.
The message went on with an impassioned plea to consider one's loved ones, and the rescue workers who might have to retrieve you, or your corpse.
One meteorologist even published his personal contact information, saying he'd be glad to answer a flood of angry phone calls if his warnings prove to be unfounded.
Times Square (Metropolitan Transportation Authority / Aaron Donovan)
Grand Central Terminal (Metropolitan Transportation Authority / Aaron Donovan)
Times Square (Metropolitan Transportation Authority / Aaron Donovan)
Grand Central Terminal (Metropolitan Transportation Authority / Aaron Donovan)
The last train to leave Grand Central Terminal (Metropolitan Transportation Authority / Aaron Donovan)
A Metropolitan Transportation Authority (MTA) employee waits for one of the last downtown 4 subway trains in New York October 28, 2012 (Reuters / Carlo Allegri)
Caution tape covers the entrance to the Times Square Subway Station in New York October 28, 2012 (Reuters / Brendan McDermid)