Disabled American dies in Hungary after airlines refuse to fly her back to New York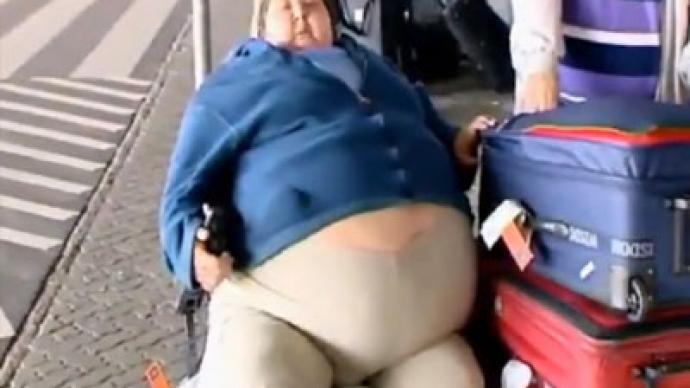 A 425 lb. woman died while on vacation in Hungary after three airlines refused to let the severely overweight woman board the plane back to New York. The 56-year-old was in need of treatment for health complications.
Vilma Soltesz, a resident of the Bronx, was on vacation in Hungary with her husband of 33 years. But what she thought was just another near-annual trip turned out to be her last. The obese woman died from kidney failure after traveling through Europe while searching for an airline that would allow her to fly home.
"This absolutely contributed to the cause of her death," attorney Holly Ostrov Ronai told the New York Post, referring to the multiple airlines' refusal to let the woman board.
The Soltesz couple had purchased two KLM (Royal Dutch) Airlines tickets to fly to New York on October 15 so that Vilma could continue treatment with the doctors she had been seeing for years. The 425 lb. woman used a wheelchair and had only one leg. She was also suffering from symptoms of kidney disease and diabetes.
After about a month-long vacation in the Hungarian countryside, where the couple owns a vacation home, the woman urgently needed to return to the US for treatment. But after the couple sat down on the plane, they were ordered to leave because the airline did not have a large enough seatbelt extender. Airline officials also told the couple that the seat back couldn't handle Vilma's weight.
"They tried to fit her into the back of the plane, but they didn't have an extension to secure her," her 56-year-old husband Janos told the New York Post. After waiting at the airport for five hours, airline officials told the couple they could board a Delta plane in Prague, which would be able to accommodate the severely overweight woman as a disabled person.
Screenshot from YouTube user PrincessRebecaDawn
But the five-hour drive from Budapest to Prague did the couple no good: Delta staff told the Soltesz couple that their plastic wheelchair would break under her weight and that their sky-lift elevator was also unable to accommodate her.
"After the operating carrier in Budapest was physically unable to board Mrs. Soltesz on its flight, and despite a determined good-faith effort by Delta in Prague, we were also physically unable to board her on our aircraft," Delta spokesman Russel Cason told the New York Post.
With no alternatives, the couple drove back to their vacation home in Hungary to book another flight – this time departing from Frankfurt.
Screenshot from YouTube user PrincessRebecaDawn
But once again, the Oct. 22 Lufthansa flight from Frankfurt refused to board the woman, claiming she was too heavy to move from the wheelchair to the three assigned seats she had booked. With again no other options, the couple was forced to return to their vacation home from a city that was about 10 hours away.
While stuck in Hungary, the woman grew sicker by the day until she eventually died from kidney failure without treatment from the doctors she so desperately relied on. Vilma died right after her husband had found a flight in Vienna that would take them back home.
"Her husband went in to get her but she had already passed away in the bedroom," attorney Peter Ronai told CBS News.
The airlines that refused to board her are now facing a $6 million lawsuit for her death, filed by the husband of the victim.