Second man arrested in New York bombing plot
Published time: 19 Oct, 2012 16:39
Edited time: 19 Oct, 2012 20:39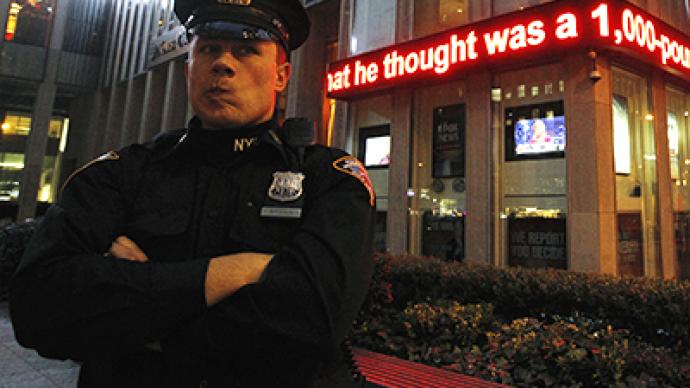 The Bangladeshi man arrested for trying to detonate what he thought was a 1,000-pound bomb had an alleged accomplice in San Diego, who was arrested on unrelated child-pornography charges after being monitored by the feds for months.
California resident Howard Willie Carter II, 36, was arrested after Federal Bureau of Investigation (FBI) agents found 1,000 child pornography images and three video files on a laptop and hard drive in the garbage near his apartment, the New York Times reported.
After looking through the files, agents found information linking Carter to the bomb plot of New York's Federal Reserve Bank. Carter's computer contained e-mails, which addressed him as "Yaqueen." The Bangladeshi who attempted to detonate the bomb, 21-year-old Quazi Mohammad Rezwanul Ahsan Nafis, had told undercover officials that Yaqueen was a conspirator.
Carter, using the name Yaqueen, had previously suggested to Nafis that they attack a military base in Baltimore, which had only one guard standing outside.
Both men had been under government surveillance as part of an elaborate sting operation. Carter started being monitored by feds as early as August, but officials waited until Nafis's arrest before going after him.
Both men are now facing charges of conspiring to use weapons of mass destruction and with providing material support to al-Qaeda.
Nafis claimed responsibility for his planned attack, asserting that he wanted to "destroy America." He also referred to former al-Qaeda leader Osama bin Laden as "beloved." The Bangladeshi had been studying in the US on a student visa since January, while plotting to detonate a bomb. He sought out help from al-Qaeda sympathizers and potential recruits. One of these potential recruits was an FBI agent, which led to the undercover sting operation.
Working with undercover FBI agents posing as co-conspirators, Nafis was immediately arrested after dialing a number on his cell phone that he thought would detonate a bomb inside the Federal Reserve Bank on Wednesday.
"I don't want something that's like, small," Nafis allegedly told undercover authorities. "I just want something big. Something very big. Very, very, very, very big, that will shake the whole country."
Nafis also expressed his desire to kill a high-ranking government official. He also considered the New York Stock Exchange as a potential target.
"Attempting to destroy a landmark building and kill or maim untold numbers of innocent bystanders is about as serious as the imagination can conjure," acting Assistant Director of the FBI in New York Mary Galligan told the Los Angeles Times.

Quazi Mohammad Rezwanul Ahsan Nafis. (AFP Photo)