NY declares public health emergency due to flu epidemic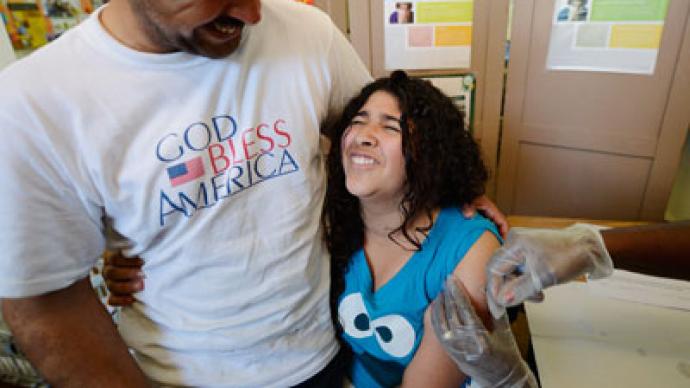 New York State has become the latest US region to declare a health emergency due to a flu epidemic, with the number of confirmed cases already four times higher than last year.
"We are experiencing the worst flu season since at least 2009, and influenza activity in New York State is widespread, with cases reported in all 57 counties and all five boroughs of New York City," said governor Andrew Cuomo.More than 19,000 cases of flu have been confirmed in laboratory analysis, up from 4,404 last year. But these numbers are thought to represent just a tiny fraction of those affected, as only the most severe cases usually get clinically tested.At least two children and ten adults have died from influenza this season in New York City alone.To combat the spread of disease, Cuomo has authorized pharmacists to vaccinate children as young as six months for the next 4 weeks. Usually, drug store staff can only give shots to adults."It's a bad year," the city's health commissioner, Dr. Thomas A. Farley, said in a statement to the media. "We've got lots of flu, it's mainly type AH3N2, which tends to be a little more severe. Our message for any people who are listening to this is it's still not too late to get your flu shot."The vaccine used this year prevents flu in only 62 percent of cases, according to the Center for Disease Control and Prevention (CDC) and is likely to be less effective in those already weakened by other conditions.Widespread flu has been reported in 47 US states.Boston declared a state of emergency on Wednesday, following 18 flu-related deaths in Massachusetts.Nonetheless, health experts hope that the worst may be over, after statistics fort he last two weeks showed the number of positive flu tests going down for the first time since the start of the season.Economists estimate that the direct cost of the flu, including vaccination, hospitalizations and medicine, exceeds $10 billion dollars in an average year, but when other factors like missed work days are taken into account, the economic impact could top $80 billion.
You can share this story on social media: