Bird flu mutation study stopped in fear of deadly global outbreak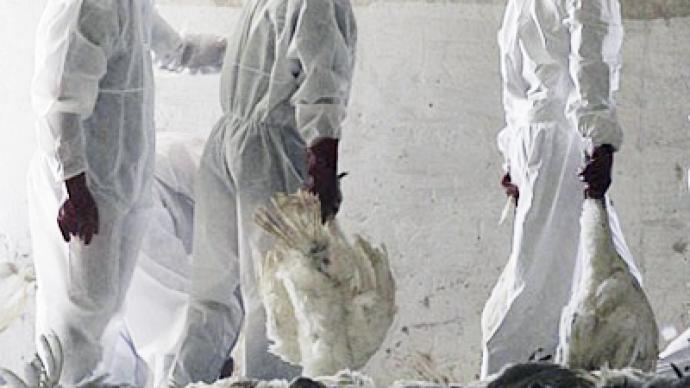 Under pressure to put their research on hold due to fear of a biological disaster, an international team of scientists have voluntarily suspended their study on an advanced, incredibly deadly mutation of the H5N1 bird flu.
In an effort to better understand the deadly bird flu virus, Ron Fouchier of Erasmus Medical College in the Netherlands, Adolfo Garcia-Sastre of Mount Sinai School of Medicine in New York and Yoshihiro Kawaoka of the University of Wisconsin, Madison have been slaving over their study of the avian influenza. In conducting their own research, the team of scientists was able to mutate the original H5N1 virus into a much more lethal form to see how the outbreak could increase in intensity if not controlled outside of the lab. As word came around late last year that their research had returned a variation able to induce an international outbreak, however, the scientific community urged them to abandon their study in fear that the mutated strain would escape the lab and cause a deadly, worldwide outbreak. With the fear failing to subside weeks later, the team of scientists has temporarily halted their research.In its natural form, the bird flu virus has led to nearly 600 known cases and 340 deaths since it was discovered in 2003. That year there were only four outbreaks, all in East Asia, although in the years since an outbreak has claimed lives as far west as Egypt. The scientists were studying what damage a mutated strain of the virus could bring, but the US National Science Advisory Board for Biosecurity cautioned them to refrain from publishing the results of their finding, fearful that it would influence budding bioterrorists to use the study to create their own strain and launch an epidemic. Despite the Board's urging, others in the science community were skeptical. "In the end, is the likelihood of misuse outweighed by the danger of beginning a Big Brother society?" Professor Wendy Barclay of Imperial College London asked the Daily Mail last month. The researchers say in a letter published in the journals Nature and Science on Friday that they will take a two-month break from their efforts. Since news of their study caught wind, the US government, the World Health Organization and other international bodies have been evaluating a way to go about publishing the findings in periodicals eventually, taking into account their research but avoiding the publishing of a how-go guide for biological warfare. "We realize that organizations and governments around the world need time to find the best solutions for opportunities and challenges that stem from the work," the scientists write."We hope that by having a calm and reasoned discussion of the facts, scientists and biosecurity experts can reach a better understanding and find ways to enable the research to go forward while minimizing risks," adds Kawaoka.
You can share this story on social media: