New York flooding hits Irene levels as monstrous storm makes landfall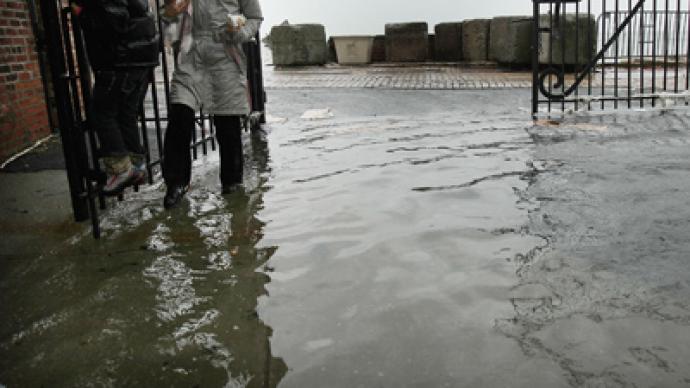 Parts of Brooklyn, Manhattan and Staten Island are underwater as hurricane Sandy passes over New York. Much of the city is now without power, and mass transit has been shut down until further notice.
Waterways in the New York metropolitan area are rising, Mayor Michael Bloomberg told a press conference organized due to Hurricane Sandy. The coastal flood warning is in place from 3 pm to 6 am local time.Consolidated Edison, the Big Apple's primary energy supplier, began shutting power down in some parts of Manhattan just before 8 pm local time due to the flood threat. Manhattan's Lower East Side and East Village districts are already facing serious flooding, with pictures on Twitter and Facebook showing cars underwater. The two neighborhoods, which sit on the western bank of the East River, can expect a 9-10 foot water surge at the climax of high tide on Monday night, Bloomberg warned.Meanwhile, the surge has already hit the levels seen during Tropical Storm Irene, which hit New York last August. Pictures of flooding in the Red Hook district of Brooklyn, FDR Drive on the east side of Manhattan, and Battery Park, at the very bottom of Manhattan Island, are making the rounds online.Highways, public transit and bridges were closed early on. The city's public schools will remains closed Tuesday, as will the New York Stock Exchange. Some of the city's universities and museums have opted to shut their doors until further notice as well. Reports say the hurricane has strengthened and developed an eye, with sustained winds reportedly reaching 90 mph.The city's Robert F. Kennedy Bridge, which links Queens to Manhattan and the Bronx, was shut down Monday evening due to winds exceeding 100 mph, the Metropolitan Transportation Authority reported. As winds continued to pick up, emergency workers rushed to save a construction crane stationed alongside a 65-story building in midtown Manhattan. The crane's arm was dangling dangerously, and as a result officials ordered the evacuations of several buildings near the site.
More than 375,000 people were ordered to evacuate from the city's low-lying areas. Mayor Bloomberg urged those remaining in flood zone A to leave immediately.The city's Staten Island and East River Ferry services have been suspended.However, Bloomberg said, buses taking people out of zone A to shelters are still running.PATH, the train service connecting New Jersey and New York, has also been suspended until further notice.The major tunnels in and out of the city – the Brooklyn-Battery and Holland – are also closed due to threats of flooding.The city government remains open, Bloomberg stressed, taking calls about downed trees, highway flooding and other such cases.Earlier, President Barack Obama declared a state of emergency in the state of New York. He urged citizens to take the storm "seriously" and follow local authorities' safety instructions.
You can share this story on social media: