Georgia town considers mandatory gun ownership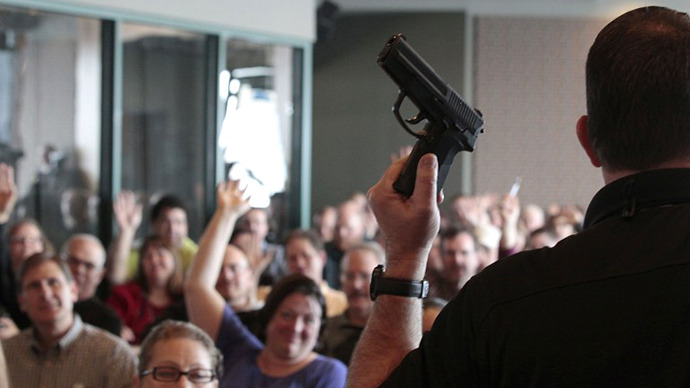 Residents of a town in the US state of Georgia may soon be required to own a firearm. If a new law is passed, Nelson will become the second town in the state to mandate gun ownership, as the federal government debates limits on gun control.
The Family Protection Act was proposed by a city leader in the town of Nelson – just 50 miles north of Atlanta. It calls on every household to have a gun as a means to keep crime down. The proposal was unanimously approved by city council members earlier this week.  

"In order to provide for the emergency management of the city, and further in order to provide for and protect the safety, security and general welfare of the city and its inhabitants, every head of household residing in the city limits is required to maintain a firearm, together with ammunition therefore," the two-paragraph proposal reads.

Although there would be no penalty for not having a weapon, the new law would deter would-be criminals, according to Councilman Duane Cronic.

"Now the person that may be there [checking] your home out to cause harm to you or your family to break into your house has to decide, 'When I break that door down, what's on the other side of that door?'" Cronic said in a council meeting.

But not all residents agree with the law – especially since the town has no intention of following it through.

"Why have an ordinance if you're not going to enforce it? What's the point? They just want publicity to say Nelson is a town full of weapons. This is big government at its worst. Government mandating what a free individual can and will have in his home," Nelson resident Lamar Kellett told WSB-TV.

The crime rate in Nelson consists mostly of petty theft – not gun crime. But that hasn't stopped Cronic from pushing the ordinance.  

"This is just a way to keep our crime rate low," he said.

Nelson, which is home to 1,300 people, employs just one police officer – and he only works at night. When the policeman is off duty, residents must call the local sheriff's office if they need assistance – which can result in longer response times, Cronic told Reuters.

So instead of employing more police, city councilors are choosing an alternative route. It's an idea that has been praised by Nelson Police Chief Heath Mitchell.

"I think y'all are showing the people that you're in full support of the Constitution. And as far as the Second Amendment goes, that you stand behind it, you stand behind people's rights," he told councilors at a meeting.

Felons and people with physical or mental disabilities would be exempt from the law, as well as those who oppose gun ownership based on belief or religious doctrine.

Nelson residents will vote on the gun ownership ordinance on April 1. A similar ordinance was enacted in the nearby town of Kennesaw in 1982. The town of Virgin, Utah, also passed a mandatory gun ownership law in 2000, although the town doesn't enforce it.

But lawmakers at the federal level aren't as easily persuaded on the merits of gun ownership. On Thursday, Congress passed a bill making gun trafficking a crime. It's expected to pass three other gun control bills later Friday.

The proposal comes amid a nationwide gun debate, sparked by December's Sandy Hook massacre, which left 26 people dead at a Connecticut elementary school.

You can share this story on social media: