Native American tribes denied easy access to polls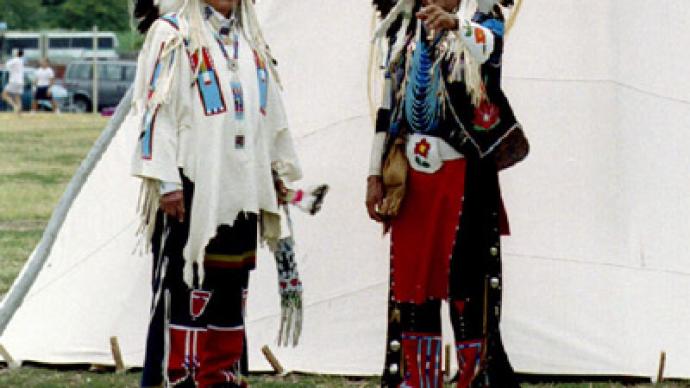 A federal judge has shot down a request from Native Americans who asked voting officials to set up satellite polling places in rural reservations during the week leading up to Election Day.
US District Judge Richard Cebull rued on Tuesday that the government is not required to operate and manage temporary voting offices in the sparsely populated parts of Montana inhabited by the Crow, Northern Cheyenne and Fort Belknap tribes, despite complaints from locals that participating in the presidential election warranted costly and burdensome efforts.Fifteen Native American plaintiffs insisted to the court that they were being discriminated against because they did not have fair and equal access to ballots, needing in some cases to travel 120 miles round-trip in order to vote at sanctioned polling places. Judge Cebull, however, implied that their case was not strong enough to warrant emergency action."I'm not arguing that the opportunity is equal for Indian persons as it is to non-Indians," Cebull said. "Because of poverty, because of the lack of vehicles and that sort of thing, it's probably not equal. However, you have to prove … that they can't elect candidates of their choice."The US Justice Department had come to the aid of the natives, even submitting court filings in support of their case that included a deposition from a University of Wyoming geography professor who argued there was an unfair disadvantage when it came down to who could vote and how easily, the Associated Press reports."The practical reality is that Indian voters in Big Horn, Blaine and Rosebud counties do not have the same opportunity as white voters," Department of Justice attorneys wrote in their filings. Even if that is the case, however, Judge Cebull said geographical and fiscal impairments, no matter how evident, were not extreme enough for the government to set up satellite polling on reservations in the week before the election. County officials add to the AP that they did not think there was neither enough time nor workers to make such an effort a reality anyway."It logistically can't be done in this time crunch," Chinook County attorney Sara Frankenstein adds.Tom Rodgers, an enrolled member of the Blackfeet tribe, tells the AP, "It's a more subtle, soft discrimination."Edward Moore, Jr., a plaintiff in the lawsuit and a tribal council member at Fort Belknap adds that the troubles natives must encounter to access polling places are "a big burden," and that he think many people "may not vote at all" as a result.
You can share this story on social media: