Murdoch kills The Daily and prepares to split News Corp
Published time: 3 Dec, 2012 18:32
Edited time: 3 Dec, 2012 22:32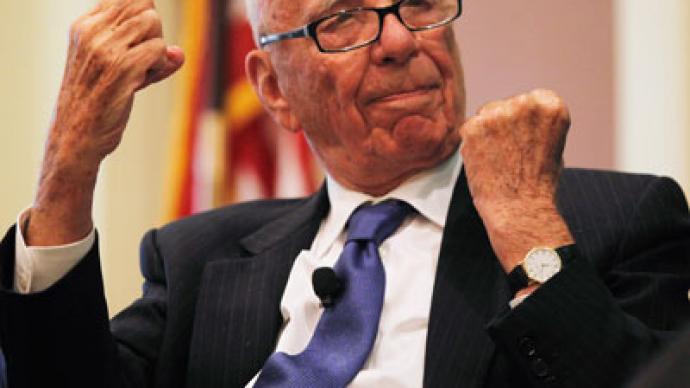 Serious restructuring within Rupert Murdoch's media conglomerate News Corp. will occur in the coming days according to a series of revelations made already this week.
Not only has Murdoch, the company's CEO, announced a major split within News Corp., but a top player involved in his media empire will exit from one division while another project is abandoned completely.
On Monday, News Corp. revealed that not its iPad news application, The Daily, will be aborted in the coming days. In a separate announcement, Tom Mockridge, head of the company's News International division, revealed he is leaving to "pursue outside opportunities."
Additional, Murdoch has announced that the entities that make up his international media group will be split into two separate divisions by way of a memo sent this week.
"I have great news to report regarding the proposed separation of our company into two global leaders," Murdoch wrote his employees. "In keeping with our rich, 60-year heritage of bringing news to the world, the publishing entity will retain the name News Corporation. The media and entertainment company, which has excelled at engaging, entertaining and enlightening people around the globe for almost three decades, will be named Fox Group."
Neither the closing of The Daily nor the departure of Mockridge is referenced in Murdoch's memo.
News Corp. announced the closing of The Daily less than two years after launching what was touted as being at the time revolutionary: the first tablet-exclusive newspaper. As early on as this past July, however, the New York Times reported that the Daily was on track to lose around $30 million a year and had been essentially put on watch while higher-ups within the corporation considered appropriate actions. In response, Daily Editor-in-chief Jesse Angelo issued a statement celebrating the paper's accomplishments and denounced rumors that it would soon be laid to rest.
"As for the latest misinformed, untrue rumors of our imminent demise, I would urge you to ignore them," Angelo wrote in July. "Since before we launched, our dear friends at competing media outlets have done their best to wish us ill and gleefully 'report' on what they think is going on here."
Confirming the soon-to-be ceasing of operations, News Corp. CEO Rupert Murdoch announced Monday that, "Unfortunately, our experience was that we could not find a large enough audience quickly enough to convince us the business model was sustainable in the long-term."
The Daily, added Murdoch, was "a bold experiment in digital publishing and an amazing vehicle for innovation" that failed to meet expectations. According to AllThingsD.com, the jobs of around 120 employees of the newspaper app are now being questioned.
In a separate but related incident out of News Corp. headquarters, Mr. Mockridge announced that he is stepping down from the company's British newspaper division only 16 months after he was made in charge of News International.
Mockridge's "decision to step down is absolutely and entirely his own," Murdoch said in a statement this week, adding, "I am sorry to see him leave us, but I know he will be a great success wherever he goes."
Mockridge was appointed as CEO of the News International division less than a year-and-a-half-ago after former executive Rebekah Brooks was forced to step down amid an international phone-hacking scandal that has left the News Corp. conglomerate muddled in controversy ever since.