Murdoch gets a Twitter - and his wife is already mad at him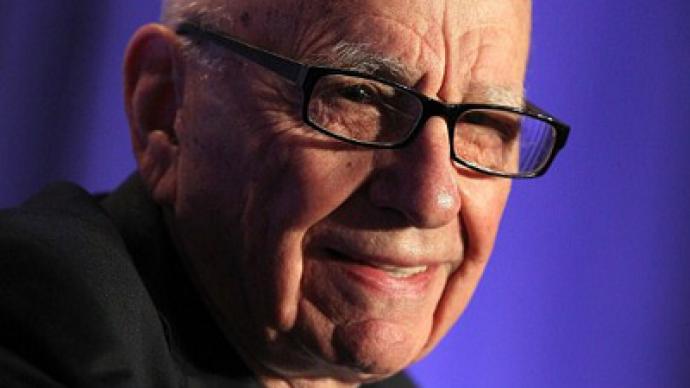 Is it possible to ruin your reputation in fewer than 140 characters? Absolutely. Now if only News Corp. chief Rupert Murdoch had one that could be ravaged.
Instead, the world is left to explore the media mogul's oh-so-lively misadventures as the billionaire 80-year-old founding father of Fox surprised the microblogiverse over the weekend by creating a Twitter account.
Murdoch, the man behind a crumbling media empire ruined by scandal (and now also the account @rupertmurdoch) joined Twitter on December 31, a move that has allowed the kingpin to amass nearly 100,000 followers in the few days since — and also allow him to extend his reign over the news world with one more medium. Just when you thought that Fox News was the premiere source for what's happening around the globe, Murdoch has become the Andy Rooney of the Information Age thanks to a plethora of cranky-old-man tweets.
"Steve Jobs biog interesting but unfair. Family must hate," Murdoch posted from his iPad on New Year's Eve. Judging by the rest of his mini-message, the News Corp CEO had a busy holiday by finishing up the bestselling book on the Apple founder and then went to the theatre. That same day he wrote, "Saw Fox film Descendants. Thank God, one to be proud of. Star Geo Clooney deserves Oscar, maybe film too."
The fun and games didn't last long, however. By January 1, Murdoch told his followers, "Back to work tomorrow. Enough idling!" After all, when you are richer than God and control the media, you can only ride a submarine in the ocean with your pre-teen children for so long before it is back to hacking voicemails and bathing in gold (see the post: "Great time in sea with young daughters, uboating.").
Perhaps the most pessimistic tweet to come from Mr. Murdoch was one aimed at the UK, in which he wrote "Maybe Brits have too many holidays for broke country." Just when Twitterland seemed like it couldn't get any more entertaining, an account was soon opened up under the name of Murdoch's wife, Wendi Deng — and thankfully, she wanted the whole world to see her reprimand her husband.
"RUPERT!!! delete tweet!" wrote Deng, which was followed up with, "EVERY1 @rupertmurdoch was only having a joke pROMSIE!!!" Murdoch was quick to get serious, however, and it wasn't long before the News Corp. CEO was offering a fair and balanced point-of-view on American politics — something shown through tweets praising Michael Bloomberg ("New York's best mayor in memory!") and Barack Obama ("decision on terrorist detention very courageous"), as well as showing who he might be supporting this election year ("Good to see santorum surging in Iowa.").
Don't worry — Wendi is still pretty proud of her hoary husband. "Very proud of @rupertmurdoch for getting on twitter. never too old to start!!!" she wrote.
And yes, the rest of the Internet has already long-been laughing at the notion of "surging santorum."