Murdoch lobbied for lax bribe laws, 9/11 investigation continues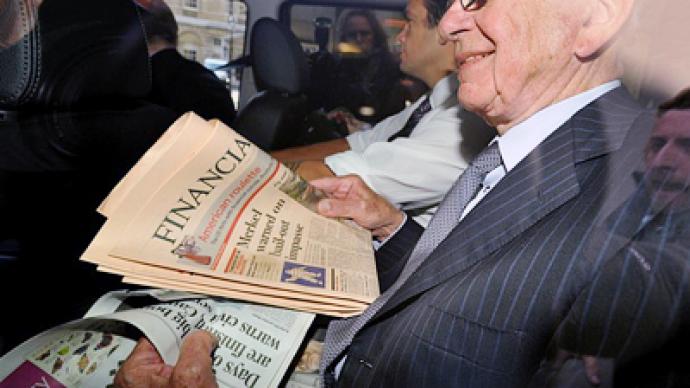 Things aren't getting any better for Rupert Murdoch. As new reports surfaced today against him, yet more scandal is being pinned on his News Corp. media empire, including now a bribe involving News Corp, the Chamber of Commerce and - more bribes.
­Murdoch donated $1 million to the Chamber of Commerce last summer, which, for the multi-billionaire, is practically pennies. The Chamber of Commerce serves as a powerful pro-business lobby, however, and six months after Murdoch's contribution, the CoC began a campaign to weaken American anti-bribery laws.

Why would Murdoch be interested in making bribe legislation more lax? There might be a connection between him pushing for new bribery laws and the whole paying-off UK police scandal that has been developing in the last week.  Allegations surfaced earlier this month that Murdoch's News Corp. spent over $150,000 on information from British cops.

Oh, and then there is The Daily Mirror saying earlier this week that their Murdoch-run rival News of the World tried to bribe a former NYC cop to help hack the phones of 9/11 victims.

That, of course, is only the tip of the massive iceberg that News Corp has sailed straight into this month.

After allegations were brought forth on Tuesday from Senate Commerce Committee Chairman Jay Rockefeller, sources reported yesterday that the FBI was beginning to investigate News Corp.'s possible involvement in a scheme to illegally obtain phone records and conversations from victims of the September 11 attacks.

Today, Attorney General Eric Holder confirmed that the Justice Department is indeed investigating the allegations, and told those at an Australian press conference this morning that the US is seeking out "the appropriate federal agencies in the United Sates."

Today also marked the resignation of News International Chief Rebekah Brook, who is scheduled to testify before British Parliament on Tuesday regarding the UK phone-hacking scandal that News Corp. is battling abroad.

As the News Corp. ship looks surely to sink already, today's revelations about their CoC donations are not helping save Murdoch and his crew.

Media Matters' Ilyse Hogue says today to the Daily Mail, "Time and again we've seen News Corporation use their massive power and influence to change laws that don't suit them," and adds that "The proximity of this contribution and the chamber's lobbying campaign at least should raise eyebrows."

As allegations escalate, News Corp.'s major American media outlet, Fox News, has expectedly remained mum on the matter. A Media Matter analysis shows that, while CNN reported on the scandal in 109 segments in the nine days after the phone-hacking scandal first surfaced, Fox limited their coverage to 30 segments.

CNN has, however, failed to report on any information that would link their new anchor — and former News of the World editor — Piers Morgan to the News Corp. scandal. Morgan has since claimed that "The papers I edited always operated within the law."