Assange's mother: Julian is one step closer to US extradition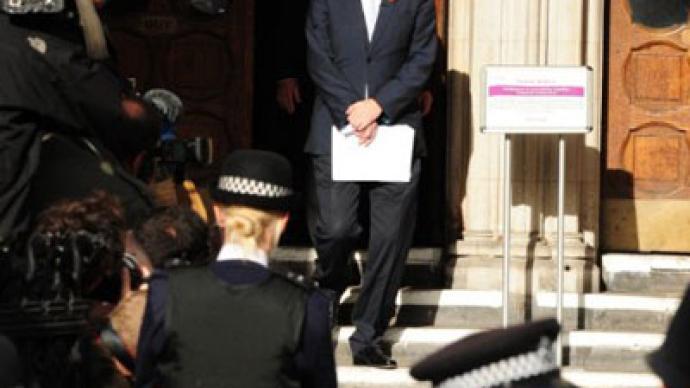 Following today's ruling from a London court, Julian Assange is expected to be extradited to Sweden so authorities there can investigate sexual assault allegations lobbed against the WikiLeaks founder.
To the mother of Assange, however, this legal maneuver is just the next step in getting her son sent to America to be "tortured."
Julian Assange has been under strict lock-down in his UK residence for nearly a year now as legal issues over an alleged sexual assault in Sweden went under review. Today the London court denied his appeal against an extradition, and although Assange will be able to ask them to reconsider once more, as it stands right now he looks to be sent to Sweden where authorities will question him over a rape case that supposed victims attest occurred in August 2010.
Over one year in the making, no charges have ever formally been brought against Assange.
Given ties between the Sweden and the States, his mother, Christine Assange, now says that the next step will be to send her son to America where he is detested by the government for his role with WikiLeaks. Under Assange's watch, his whistleblower website leaked thousands of classified diplomatic cables between US officials and international figures, exposing secrets and sensitive material across the globe.
Christine Assange says that unless his native country of Australia steps in to halt the extradition, "he will go to the US and he will be tortured."
"I brought my son up to tell the truth, to believe in justice. He was brought up to believe he lived in a democracy and to right any wrongs that he saw… Now I believe that's not true," his mother tells AAP.
She is fearful that an extradition to Sweden will quickly land Assange on American soil, where authorities are hungry for blood after WikiLeaks revealed some of the United States' biggest secrets. A complicated British legal system has kept Assange under watch in the UK, but his mother says that Sweden will be quick to send her son to the States.
"People think that because Sweden is a Western country that they have a legal system the same as ours, that's completely untrue," she adds to AAP. "From the time he hits Sweden, he is going to be lost to any kind of observation from anybody to understand if his human rights are being breached."
In the past, Julian Assange has also noted that he believes the Swedish judicial system to be tainted and has spoken out against the country's strict sexual crimes laws, calling the nation "the Saudi Arabia of feminism."
Assange's lawyers have asked the High Court in London for 14 days to consider filing a final appeal in the extradition case. His mother, however, says that the Australian government has a role to play in helping out their native son.
"Australians need to stand up and if this government won't stand up for democracy and free speech, they need to throw them out," she says to APP. "(Prime Minister) Julia Gillard should be standing up to the US and saying: not this time. You're not going to take one of our countrymen and torture them just because they told the truth."
"He's been crucified for doing what he was brought up to do," she says.
Speaking outside of the courtroom following the hearing, Julian Asange himself said, "We will consider our next steps in the coming days." If an appeal is not granted, he will be extradited to Sweden most likely within days.
Over the weekend, Republican presidential candidate Ron Paul spoke in favor of Assange, telling an audience at the National Federation of Republican Assemblies in Iowa that the transparency that WikiLeaks brings is fundamental for the country, but lawmakers are often threatened by the liability they pose.
"The net results of protecting whistleblowers doesn't work out that well," Paul said on Saturday during his speech. "It all depends on what they're blowing the whistle on. If they don't want that information out, they come down very hard on the whistle blower."