Moody's downgrades Too-Big-To-Fail
Published time: 22 Sep, 2011 21:26
Edited time: 23 Sep, 2011 01:26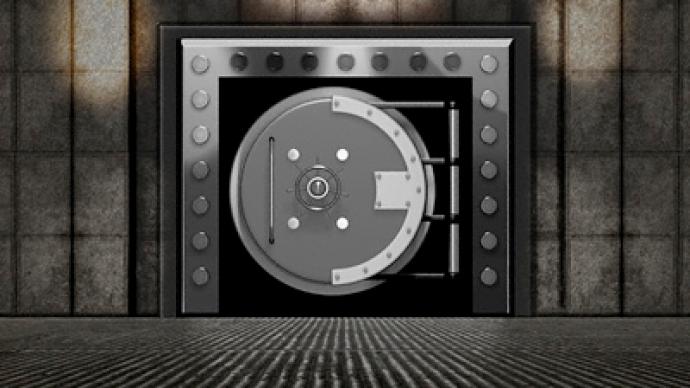 Are the banking behemoths in America really too big to fail? One of the top credit raters in the country doesn't think so.
Moody's credit rating agency today downgraded Bank of America Corp, Wells Fargo & Co and Citigroup Inc, three of the largest banks in the United States. The decision comes three months after the agency launched a review of the banking giants when talks of downgrades first began to surface.
The decision to downgrade, dropped by Moody's earlier today, has since only added to the volatility that have marred the markets since they opened this morning. While shares for BofA and Citigroup all slumped downward after the decision, the Dow Jones Industrial Average, Standard & Poor's 500 Index and the Nasdaq Index have all showed unexpected plummets. The DJIA closed on Thursday at 10,734.05, showing a drop -390.79, or -3.51 percent.
Bank of America's shares were down more than 6 percent by the end of Thursday. In their case, Moody's downgraded their longer-term credit rating by two full notches from "A2" down to "Baa1." The bank, however, says Moody's wasn't right in their actions.
"Moody's decision to downgrade our credit rating is based on factors external to Bank of America: Their conclusion that the Dodd-Frank legislation will make the U.S. government less likely to support financial institutions in a crisis, and a possible further deterioration of the economy. In fact, Moody's explicitly stated that the downgrades do not reflect a weakening of the intrinsic credit quality of Bank of America," BofA says in a statement issued today.
Adds Bank of America, "While we disagree with their conclusions and we believe our ratings should be higher, to minimize any potential impact of this decision on our business, we have been managing our liquidity carefully and we have prefunded our planned borrowing needs for the year."
Meanwhile, they aren't the only ones questioning the downgrade. Rochdale Securities analyst Dick Bove told CNBC today that the decision was "absurd."
"This is the largest bank in the United States. It has business with one out of every five households in the country," adds Bove. "The assumption is that the United States government would allow this bank to go under and pull all of those other people under with it!"
Reuters reports that the downgrade comes from insiders in Moody's that feel that the US is "more likely now than during the financial crisis to allow a large bank to fail should it become financially troubled."