Chicago's credit rating takes a beating, Moody's downgrades to just above junk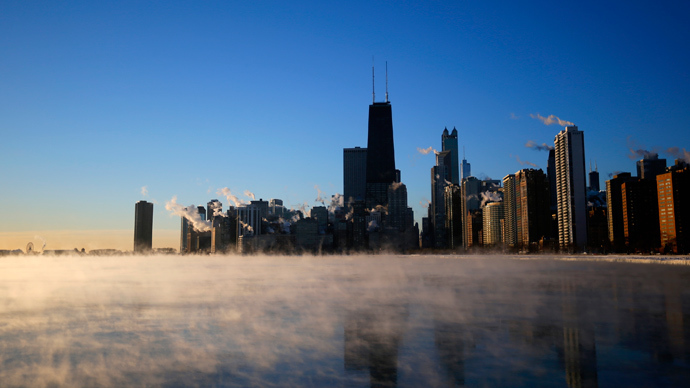 Moody's Investor Services has downgraded Chicago's credit rating to the third-lowest level above "non-investment grade" based on pension liabilities, meaning the third-largest US municipality has the second-lowest credit score among major cities.
The agency announced Tuesday it was dropping Chicago's rating on around $8 billion in debt by one level – from A3 to Baa1. The move follows a three-step downgrade for the city in July.
Dropping Chicago's rating to three levels above junk-bond status "reflects the city's massive and growing unfunded pension liabilities, which threaten the city's fiscal solvency," Moody's analyst Matthew Butler said in a report on Tuesday. "The size of Chicago's unfunded pension liabilities makes it an extreme outlier."
Chicago's pension debt is eight times more than its operating revenue, BusinessWeek reported. The city's debt load tripled from 2002 to 2012.
Moody's warned that the city's outlook remains negative, meaning its rating could fall further if the pension debt is not addressed through revenue boosts and other budgetary modifications.
Chicago's lowered rating means the city will pay a higher interest rate when it issues $405 million in general obligation bonds next week, according to Bloomberg.
"While we disagree with the action taken today by Moody's, we do agree that the city's pension challenges will have a direct impact on its long-term financial stability without reform," Lois Scott, Chicago's top financial officer, said in a statement.
In an October budget address, Chicago Mayor Rahm Emanuel urged the Illinois Legislature to restructure the city's pension funds.
"We will not preside over a city in which garbage is not picked up, graffiti is not removed, and libraries and other vital services must be shut down," Emanuel said, adding that residents and businesses will leave the city if the state legislative body doesn't act.
The city's population went down by around seven percent from 2000 to 2010, according to US Census data. Meanwhile, New York and Los Angeles – the first- and second-largest US cities – saw at least a two percent population jump in that time.
Both New York and Los Angeles are rated Aa2 by Moody's, the third-highest overall ranking and five levels above Chicago.
Illinois has the lowest Moody's rating – A3 – of any US state, though it is still one ranking above Chicago.
Among major US cities, only Detroit has a worse Moody's rating than Chicago.
Despite Moody's downgrade of the Windy City, other credit rating agencies have not been as harsh. Standard & Poor's recently reaffirmed Chicago's A+ rating, which is three levels above Moody's assessment.
Chicago has "solid credit quality, with support from a strong local economy," S&P analysts wrote last week.
Fitch Ratings dropped Chicago to A- in November, citing pension debt. That rating equals one level higher than Moody's ranking of Chicago.
You can share this story on social media: